Norway Can Afford Higher Wages, Solberg Says as Oil Bounces Back
(Bloomberg) -- Norway can afford a moderate rise in wages now that western Europe's largest crude producer is reaping the benefits of a rebound in oil prices, Erna Solberg said.
On Tuesday the Norwegian prime minister invited the leaders of the largest labor organizations to discuss its 2019 budget proposal. While sounding positive about the future of the economy and hinting that wages could rise without hurting exports, the government leader urged unions not to exceed with their demands.
"We have regained a lot of competitiveness for two reasons: a weaker krone and moderation in the labor market," Solberg said in an interview in Oslo. "The social partners have seen the value of securing employment and jobs," she said.
Norway's petroleum sector was forced to slash costs after oil price collapsed fours years ago, prompting unemployment to soar and forcing the central bank to cut interest rates to a record low. The government responded by rapidly increasing oil wealth spending, dipping into the country's sovereign wealth fund for the first time.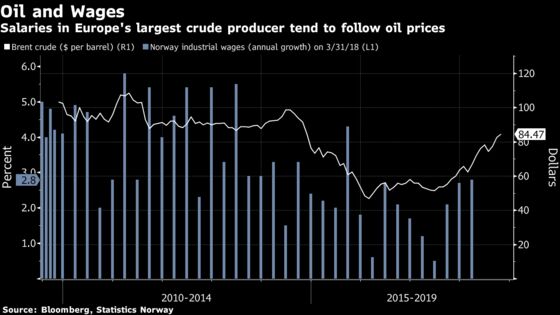 According to Solberg's 2019 budget, the government will spend 231 billion kroner ($28 billion) of oil income to plug a budget deficit. The center-right government also raised its growth outlook for next year, to 2.7 percent, and said it sees unemployment falling further.
Solberg said it was up to those involved in the wage talks to reach an agreement, keeping in mind that "we mustn't lose what we have won" in terms of competitiveness.