Avast Shares Jump on Advanced Talks With NortonLifeLock
(Bloomberg) -- Avast Plc's shares jumped the most in more than a year after the cybersecurity software company said it's in advanced talks to sell itself to NortonLifeLock Inc.
An offer is likely to involve a mix of cash and shares, though there's no certainty that a transaction will take place, Avast said in a statement late Wednesday. NortonLifeLock separately confirmed the discussions and said no agreement has been reached. The U.S. company has until Aug. 11 to announce its intention to make a bid.
Makers of legacy antivirus software — which detects threats by matching files on a computer to known malicious code — are trying to expand as more advanced forms of anti-hacking protections grow in popularity. A deal could value Prague-based Avast at more than $8 billion, the Wall Street Journal reported earlier, citing people familiar with the matter who it didn't name.
Avast "should not settle for less than $10 billion," analysts at Berenberg said in a note on Thursday. "We are in an age where even real, critical infrastructure is being targeted by cybercriminals, propelling valuations in the cybersecurity industry. Moreover, with private equity and large enterprises attempting to outbid each other, deal premiums have gone up."
Read More: Cyberattacks Are Finally Fueling a Mini Boom for Security ETFs
Avast shares rose 14% at 575.20 pence at 10:33 a.m. in London after earlier jumping as much as 17%, their biggest intraday gain since March 2020. The stock has gained 7.1% this year, giving the company a market value of about 5.9 billion pounds ($8.2 billion).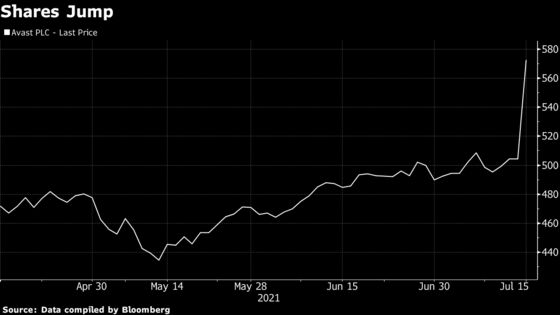 Avast's founders, who also sit on its board, control about 35% of the shares. Activist investor Starboard Value LP has a stake in NortonLifeLock and holds a board seat. It first took the position in 2018.
Norton "is probably after Avast for the company's large 435 million user base," Berenberg said in the note. "If Norton was to plug in its products to the Avast's monetization platform, it could start upselling and cross-selling products."
Avast has a "freemium" distribution model that attracts customers to a free, baseline product and tries to turn them into paying users with more advanced software, it said on its website. Avast is also able to strike deals with advertisers, search engines and other software companies that want to access its customer base.
Tempe, Arizona-based NortonLifeLock has a market value of about $15.6 billion. The firm was known as Symantec Corp. before it sold its enterprise-security business to Broadcom Inc. in 2019 for $10.7 billion.
Avast said on its website that it declined a takeover approach by competitor McAfee in 1997 and opted to license its antivirus product to the company instead. Avast, formerly known as Alwil, took its current name in 2010 and went public in London in 2018. Private-equity firm CVC Capital Partners took a "major stake" from the company's founders in 2014 and investor Summit Partners.