Turmoil Looms for Aluminum Again as Key Plant Shuts Down
(Bloomberg) -- The aluminum market risks being thrown back into turmoil after the world's largest refinery of a key raw material shut down.
Norsk Hydro ASA said it will temporarily close the Alunorte alumina refinery in Brazil because the only area it can use for waste processing is already close to reaching its capacity. An alleged dam spill led to a series of legal troubles for the company, prompting authorities to order that it operate at 50 percent of capacity in late February. A prosecutor said Friday it may take at least a year for the company to gain approval to return to normal production.
The stoppage will increase the scarcity of alumina -- a key ingredient for producing aluminum -- and raise the possibility of higher metal prices filtering through the global supply chain, which would affect manufacturers like automakers and canned drink suppliers. The market has been tight for months due to U.S. sanctions on Russia's United Co. Rusal.
"We seem to be out of the frying pan and into the fire for alumina," said Anthony Everiss, an analyst for CRU Group.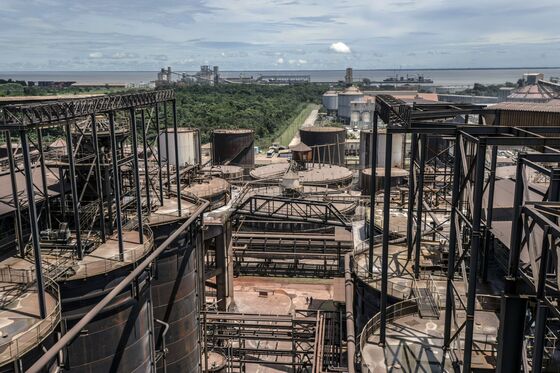 While there's no alumina contract on the LME, the effect was clear elsewhere in the market Wednesday. Aluminum prices jumped as much as 4 percent to $2,202 a ton, reaching a three-month high. Norsk Hydro shares plunged as much as 14 percent in European trading.
The news also sent shares of other aluminum companies higher. Alcoa Corp., the largest U.S. aluminum producer, which also sells alumina, jumped as much as 9.4 percent, the most in five months. Century Aluminum Co., which buys alumina, dropped 14 percent. Aluminum Corp of China Ltd. added 7.8 percent, and India's National Aluminium Co. climbed 11 percent.
Alumina is turning out to be the key swing factor in the global supply chain for aluminum, and the Norsk Hydro plant shutdown will fuel volatility as manufacturers search for alternative supplies.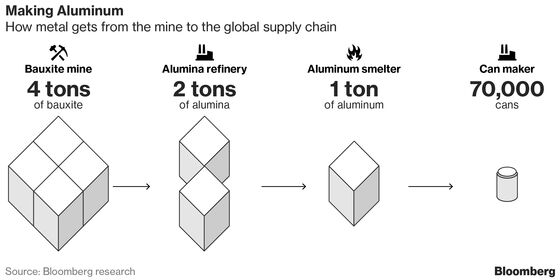 "There's clearly now a risk that it's going to be out for a while. That makes it pretty difficult for the alumina market," said Colin Hamilton, an analyst at BMO Capital Markets in London. "We're looking at a period of higher-than-expected prices."
Alumina is up about 25 percent since the end of February, averaging $479 a ton this year, according to data from S&P Global Platts. Steep prices will encourage other companies to start up alumina production, and China had now become a net exporter, Hamilton said. He cautioned that it's too early to expect aluminum production to be curtailed.
Still, the big question for the aluminum market is whether the U.S. Treasury will soon lift sanctions on Rusal, or force companies to completely cut ties -- which would cause another round of chaos for the market. The two sides are in negotiations and there are signs of progress, but it remains a key risk.
Aluminum supply has gradually tightened this year because of the Rusal sanctions and other shortages. Inventories tracked by the London Metal Exchange have shrunk more than 17 percent in the past two months.
For Hydro, the Alunorte shutdown is the latest setback in a difficult year. It has faced a long legal battle related to an alleged dam spill in February, which local regulators say contaminated rivers and wells. On Wednesday, the company also said it will close down the Paragominas bauxite mine.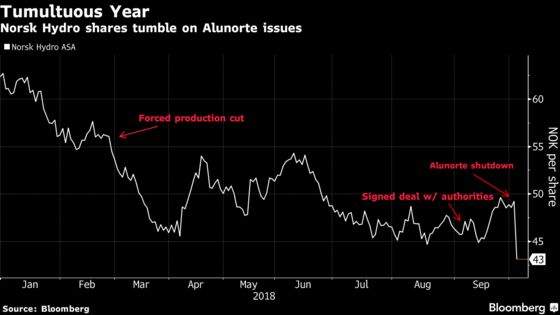 Prosecutors on Friday said Alunorte was given a year to prove it can safely store waste water. Apart from the storage evaluation, Brazilian federal and state authorities also set a long list of other requirements that Hydro needs to meet before they'll consider asking the courts to lift the injunction that has kept Alunorte operating at a lower capacity.