Nomura Quant Says Treasury-Selling Momentum Eases at This Level
(Bloomberg) -- 3.08 percent is the magic number.
Below that level, momentum-driven investors known as commodity trading advisers will likely stop amassing their "ballooning" short positions in U.S. Treasuries, according to a quant at Nomura Holdings Inc.
Put another way, with the 10-year benchmark currently trading at 3.2 percent, trend-followers can still add more fuel to the global bond rout.
"CTAs have the capacity to add more TY futures shorts as long as the 10-yr yield stays above 3.08%," quantitative strategist Masanari Takada wrote in a note this week.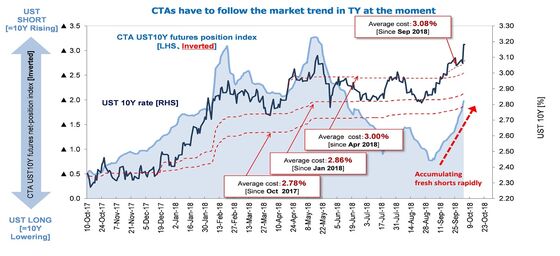 Stoked by strong economic data and Federal Reserve Chairman Jerome Powell's comments on the trajectory of the tightening cycle, Treasuries this week notched one of their worst performances since President Donald Trump's election win in November 2016.
Takada dubs the advance in yields "too fast" -- exacerbated by quant investors riding the selling wave.
Buy-and-sell signals for trend-followers are hard to decipher, given a wide variety of inputs that differ from fund to fund. Nomura uses a proprietary model to capture exposures.
Choppy markets lacking distinct trends have hurt CTAs by and large, resulting in effectively range-bound performance over much of this year. But 10-year Treasury shorts are lending a helping hand, already generating a 0.51 percent gross return this month, according to a Societe Generale SA gauge of the cohort's performance.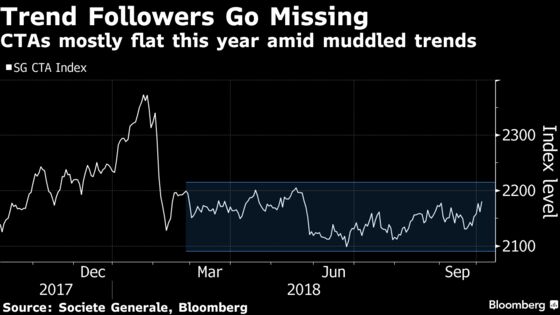 "The short tilt in the U.S. 10-year on our books today is near the year-to-date peak," said Mark Connors, head of risk advisory at Credit Suisse Group AG, in an email. Still, a "much smaller footprint of funds" holds these positions relative to the first quarter of 2018, he said.
"Managers have profited, but a smaller cohort than profited on January's rate back-up," Connors said.