Nomura Fund Manager Dumps 4.3 Million Samsung Shares Before Earnings
(Bloomberg) -- To protect returns, a top-performing fund manager slashed its Samsung Electronics Co. holding.
With growing concerns that the industry has reached a peak, shares in the sector have been tanking. Samsung Electronics, the behemoth expected to report earnings Friday, has plunged 12 percent this year as international investors have dumped the stock.
Vivian Pai, a fund manager at Nomura Asset Management Taiwan Ltd., was one of them. She sold all of the 4.3 million Samsung shares she held in her global equity fund, according to data compiled by Bloomberg based on regulatory filings as of the end of June. Her firm declined to comment on individual stocks and stake sales.
"The global economic cycle is no longer accelerating and is entering a moderate growth phase," she said from Taipei, adding that she keeps a positive view on the industry in the long term. Her fund has beaten almost all peers this year. "Hence we aimed to reduce cyclical exposures tactically in the short term."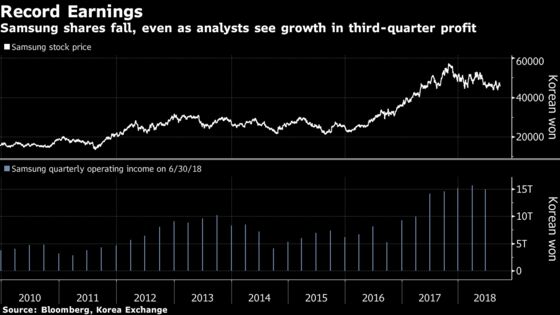 DRAM chip prices have hit a one-year low, exacerbating concerns over the end of a so-called "supercycle" in the global memory-chip industry that buoyed shares over the past two years. Morgan Stanley warned in August that investors should sell chip stocks, citing elevated inventory and a risk of slowdown in demand. Analyst Shawn Kim, who lowered Samsung's rating to equal-weight last year, said this month that the outlook is even worse than expected as data centers are "no longer eager to buy" memory chips.
While 41 out of the 45 analyst ratings compiled by Bloomberg say Samsung is a buy and third-quarter operating profit is expected to hit a record 17.2 trillion won ($15.3 billion), the focus for the earnings release will be on the company's guidance. The good quarterly results may be due to seasonal factors and the weaker won, said Jung Sang-jin, head of equities at Korea Investment Management.
"There's nothing much to support DRAM prices for now, such as sales of mobile phones," Jung said. "It seems to be inevitable for semiconductor prices to face a downturn at least by the end of the first quarter."
Samsung is seeking to curtail growth in memory-chip output to keep supplies tight and prop up semiconductor prices, people familiar with the plans told Bloomberg in September. Even though semiconductor exports -- comprising roughly a quarter of all of South Korea's exports and poised to lead Samsung's earnings growth -- jumped to a record last month, the increase was the smallest in more than a year.
Lee Seung-hoon, head of equities at DB Asset Management Co. in Seoul, remains optimistic about Samsung. He said the company may announce a positive shareholder-return policy in November, after boosting payouts last October. The stock's 12-month dividend yield is projected to reach a record 3.1 percent, according to Bloomberg dividend forecasts.
"Everyone knows the stock is cheap," Lee said. "I will not reduce shares that much from now on, and I'm watching for the possibility of a new policy."
But for many, that's not enough.
Choi Woong-pil, the chief investment officer of KB Asset Management Co. in Seoul whose small- and mid-cap fund has returned 15 percent over the past year, says Samsung needs something new. Other than the semiconductor unit, all its businesses -- from display panels to mobile phones -- are "sluggish," he said.
The mobile-phone unit, which accounted for about 20 percent of 2017 operating income, is facing worsening profitability as the new flagship Galaxy Note 9 was released at the same cost as its previous model despite a rise in component prices, according to Korea Investment & Securities Co. And even though Samsung remains the industry leader, global smartphone shipments show market saturation as competition from Chinese rivals increases, according to Bloomberg Intelligence and KIS.
Moreover, Samsung's ambitious plan to release phones with a bendable screen is unlikely to affect earnings in the near term, as the initial production of the new model is "quite small," according to Kim Hyun-su, a fund manager at IBK Asset Management Co.
"Investors who have an alternative to Samsung are selling the shares a lot, and those who don't have an alternative, are selling less," Kim said. "Even some analysts here in Seoul are saying that there's no positive factor for Samsung for a while, except a weak won."