Noble Group's Energy Trading Loss Shows Challenge Facing Rebirth
(Bloomberg) -- Noble Group Ltd.'s earnings were salvaged by a surge in alumina prices but its core coal trading business struggled to make money in the third quarter, highlighting the challenge the company faces as it emerges from a marathon debt restructuring.
The company is pinning its hopes on Asia-focused coal, alumina and liquefied natural gas trading businesses to help it make money once the restructuring is completed this month.
Noble reported a third-quarter operating loss from supply chains of $12 million in its energy unit, which includes thermal coal and LNG trading. Paul Jackaman, Noble's chief financial officer, told investors on a call that the company had lost money trading LNG, and that its thermal coal business had an operating result of "pretty much" zero for the quarter.
Jackaman highlighted the company's limited access to credit, the lifeblood of commodity traders, which has restricted its ability to carry out transactions and limited its ability to hedge prices. When the restructuring goes through, Noble Group will have access to fresh trade-finance facilities.
"The loss in the energy segment is almost entirely due to LNG, we had a couple of cargoes -- as you know, they're pretty big cargoes -- we found ourselves on the wrong side of those," Jackaman said. The transactions were unhedged, he said.
There was an overall net loss of $99 million in the third quarter, in line with the company's warning last month. The Singapore-listed company has reported several billions of dollars in losses in the last several years, selling assets and sparring with critics over the integrity of its accounts.
The $3.5 billion debt restructuring will hand control of the company to its creditors, led by hedge funds Taconic Capital Advisors, Varde Partners and Owl Creek Asset Management. The rescue, which has been backed by creditors and existing shareholders, is scheduled to be completed Nov. 26, Noble said Tuesday.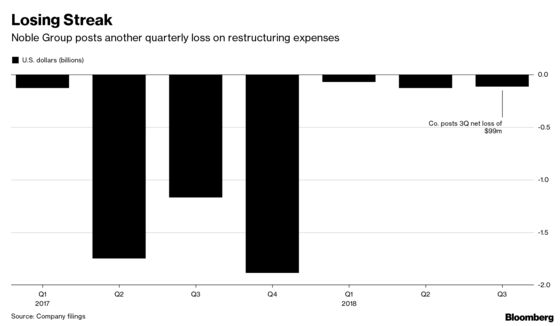 Third-quarter revenue fell to $1.21 billion, from $1.41 billion a year earlier, while volumes sank to 12.5 million metric tons, from 16.9 million. Restructuring costs totaled $32.8 million, on top of the $114 million already spent in the first half.
As a whole, operating profit from supply chains was $49.2 million in the third quarter, with results bolstered by its metals business, including a "solid" performance from the Jamalco alumina refinery in Jamaica.
Spot alumina prices surged in the second and third quarter, touching record highs amid a shutdown of the world's largest alumina plant in Brazil and concerns about U.S. sanctions on Russia's United Co. Rusal. Since the end of September prices have dropped more than 25 percent.