No Tolerance for Stragglers as Earnings Season Punishes Failure
(Bloomberg) -- Going by the indexes, earnings season has been a snooze.
But below the surface it's another story, with companies that miss estimates getting crushed, and those that beat rising more than they have in the past.
The trends are more pronounced on the downside. Almost 50 members of the S&P 500 Index have reported results so far, and those that trailed forecasts on either the top or bottom line are faring worst.
Data from Wells Fargo Securities shows that in the day after reporting, companies that missed on sales have fallen 3 percent on average. Miss on earnings per share and the beating is an even larger 3.6 percent. For both metrics, the hits are more than 1 percent greater than they were at a similar point in the first quarter.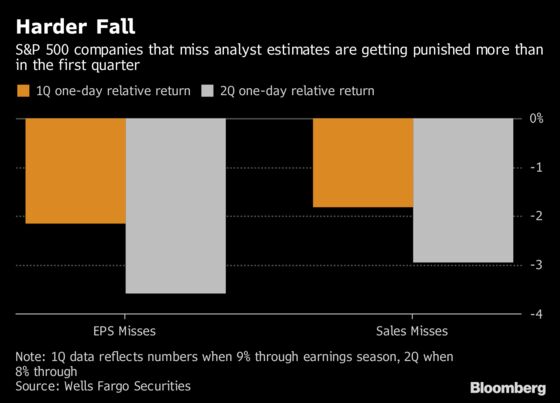 There is a silver lining, however: slightly bigger gains for companies that beat forecasts, especially on sales. The day after reporting, firms that surpassed analysts' revenue estimates have gained 1 percent on average this reporting period, according to Wells Fargo Securities. That's more than two-and-a-half times the positive effect during the first quarter.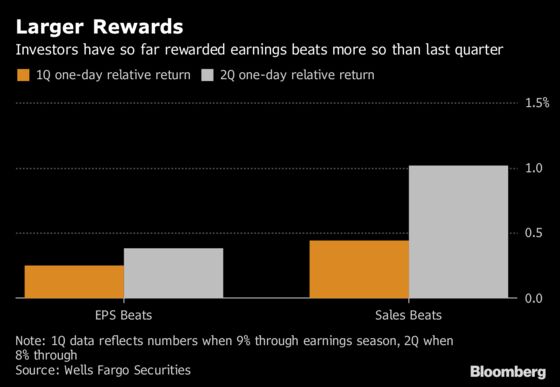 The boost is greater for stocks that beat on both the top and bottom lines. This far into the season, companies that top expectations on both ends have risen 1.8 percent from the day before to the reporting day's close, according to Lindsey Bell, an investment strategist at CFRA. Should that pace hold, companies are set to get six times the increase they received over the entire first-quarter reporting season.
"We're actually seeing stocks respond very strongly to good earnings beats, that was something that we didn't see last quarter," Bell said. "That is encouraging, but then I look at the overall market and so far it's not lifting the broader indexes higher as many had hoped, but it's nice you're seeing strong reactions in the individual stocks."