Shutdown of Canada's Economic Engine Sends Stocks to 2011 Low
(Bloomberg) -- Canadian stocks plunged to their lowest level in almost nine years as investors digested a slew of bad news that signaled a massive slowdown in economic growth for the year.
The S&P/TSX Composite Index tumbled 5.3% Monday to its lowest since October 2011, bringing the drop from the Feb. 20 peak to about 37%. Losses accelerated after Ontario and Quebec, the country's economic heavyweights, ordered the shutdown of all non-essential businesses until the middle of April to fight the coronavirus outbreak.
That Canada's economy will take a major hit from ever-spreading measures to contain the virus is becoming clear. With half a million workers applying for unemployment benefits last week consumer confidence went into a tailspin. The Bloomberg Nanos Canadian Confidence Index recorded its biggest one-week drop ever, falling to the lowest since 2013, when weekly tracking began.
Some of Canada's largest banks revised down their growth forecasts for the economy again as industry shutdowns and layoffs suggest the recession will be deeper than originally expected. The Bank of Canada may be forced to begin a quantitative easing program for the first time in history, analysts say, as the country contends with a slowdown that may cause growth to shrink by 10% to 24%.
"In uncertain times, it's understandable for markets to become a focus of fear and concern," said John Christofilos, chief trading officer at AGF Investments Inc. "It's also understandable that some investors will start to look for opportunities to capitalize."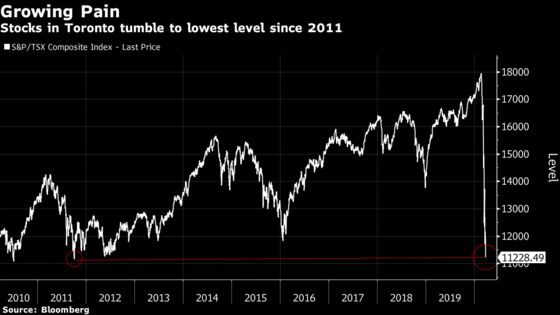 More Canadian companies are suspending operations, laying off workers and withdrawing earnings forecasts. Gildan Activewear Inc. pulled its first quarter and full year forecasts due to heightened uncertainty relating to the impacts of Covid-19. Over the weekend, Husky Energy Inc. suspended its West White Rose Project and Lundin Gold Inc. temporarily halted work at the Fruta del Norte gold mine.
Canadian REITs were the biggest losers Monday as RioCan Real Estate Investment Trust's CEO said it will lose as much as one-quarter of its revenue in the next two months as retail tenants close their doors due to the coronavirus spread.
"But the first and most important lesson of smart trading is this: Don't be a hero. Don't think you're bigger or more clever than the market. Amid volatility, patience truly is a virtue," Christofilos said in a blog post published Monday.
South of the border, little progress was made in the U.S. on a congressional spending package to blunt the fallout from the Covid-19 pandemic. House Speaker Nancy Pelosi said she is hoping to bring House members back to Washington to vote on Democrats' version of the coronavirus stimulus bill.
Technical analysis shows no respite in the market rout in the short term at least, according to Canaccord Genuity analyst Javed Mirza. The charts for both S&P 500 and TSX suggest "another leg lower," he said, adding that "we were struck not only by how much technical damage had been done, but that the charts suggested further downside." The downside technical target on another leg down is near 10,649 for the S&P/TSX, he said, which is about 5% from Monday's close.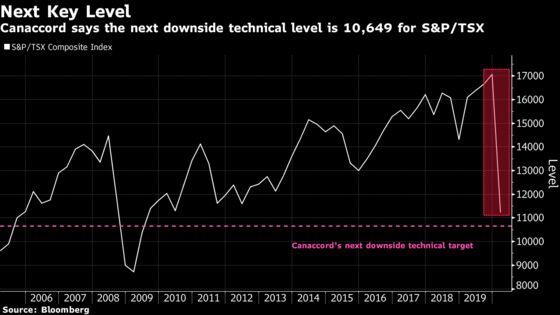 There may be a silver lining. "The good news is that given the extreme technical damage done over the last month, any further decline should be the prelude to equities forming a major price low," Mirza said. And if if the markets decide to shift to a bullish tone, Mirza thinks it could support "a sharp snapback V shaped rally, similar to the rally off the December 2018 lows."
Gold and silver miners rose as price for the metals climbed. Silvercorp Metals Inc. and Yamana Gold Inc. were among the biggest gainers on the Canadian benchmark.
Semafo Inc. surged 39% after Endeavour Mining Corp. agreed to buy the miner for about C$1 billion ($690 million) in shares.
Air Canada rose about 2.3% as the company awaits a potential government bailout
Alaris Royalty Corp. fell 16%, after Cormark downgraded the stock to speculative buy.
BRP Inc. slumped about 17% after getting several downgrades post its earnings.
NFI Group plunged 33%, after cutting dividend, planning

layoff

s.
Western Canada Select crude oil traded at a $14.50 discount to West Texas Intermediate
Spot gold rose 1.9% to $1,527.49 an ounce
The Canadian dollar fell 1.2% to C$1.4534 per U.S. dollar
The 10-year government bond yield fell 8 basis points to 0.79%