No Relief in Sight at the Pump With U.S. Gasoline Demand Surging
(Bloomberg) -- American drivers will continue to face historically high fuel prices as gasoline demand surged to the highest in more than a decade.
A key indicator of demand rose to the highest level for this time of year since 2007, according to Energy Information Administration data. Stockpiles of the motor fuel dropped to their lowest in nearly two years in the fall when gasoline demand typically declines after the summer driving season.  
"I would have thought by now that most of the economic growth and recovery would have happened," said Patrick DeHaan, head of petroleum analysis at GasBuddy. This suggests that the economic recovery is offsetting seasonal downturns with perhaps more people going back into the office, he said.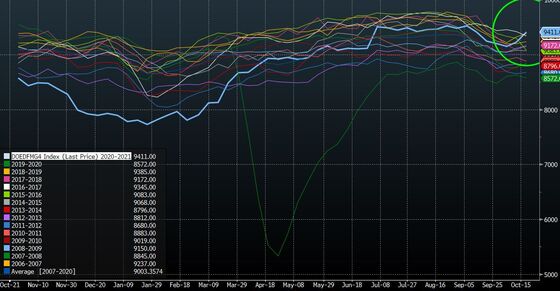 The national average of retail gasoline prices were at $3.36 per gallon Tuesday, according to AAA. Over the past few months, the White House has been in communication with OPEC, pushing the cartel to boost output while stressing the importance of affordable energy. The White House has also having active conversations with the private sector on energy prices.