Europe Stocks Head for Best Week Since 2016
(Bloomberg) -- With European shares headed for their best week since late 2016, the Red October is becoming easier to forget.
At first, much of it looked like just a standard rebound after a period of excessive selling. Then on Thursday, markets got some actual good news, with U.S. President Donald Trump tweeting about talks with China and reportedly preparing a trade agreement with the country. Even the long-suffering auto and mining sectors edged higher. Luxury and chemicals got a boost, as did technology shares that might otherwise be fretting more over Apple Inc.'s disappointing sales forecast.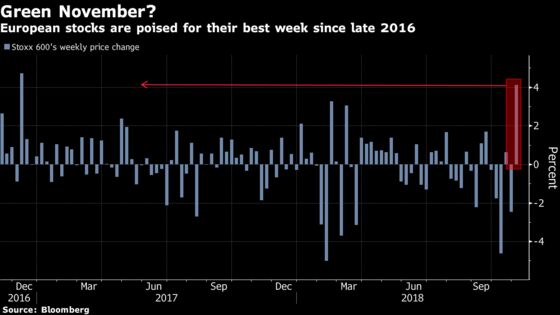 The Stoxx Europe 600 was 1 percent higher as of 9:27 a.m. London time, taking this week's gain to 4.1 percent.
Even the long-running drama over Britain's divorce from the European Union saw a positive twist this week, with Brexit Secretary Dominic Raab saying he expects a deal by Nov. 21. That's caused the FTSE 100 to underperform Europe for a third-straight day, as the pound continues to gain. China also looks poised to step on its gas pedal and give economic growth a boost.
European earnings improved lately, though this quarter is still the weakest season in four years as margin pressures build, according to Morgan Stanley. Earnings revisions are at the lowest in 2 1/2 years, while share prices have reacted more strongly to result misses than they have to beats, the U.S. bank said.
It remains to be seen whether the picture has decisively turned for Europe. As Sanford C. Bernstein put it in a note this Friday, Europe is even more hated than emerging markets. The region is still not particularly cheap, analysts are downgrading earnings expectations, and political uncertainty is increasing, strategists led by Inigo Fraser-Jenkins wrote. (It's been a long week, but don't forget that Europe's anchor -- German Chancellor Angela Merkel -- said she'd step down as head of her party on Monday.)
"The outflows from Europe are likely a natural response to the deterioration in macro data and rise in policy uncertainty," Bernstein said. "The recent data confirms that we are now firmly in the slowdown period of the business cycle and that worsening economic prospects are gaining momentum."
That narrative was further underscored this Friday, with data showing Italy's manufacturing shrank the most in nearly four years last month.