Tencent Overhang Makes for Quiet Stock Trading Day in Asia
(Bloomberg) -- Major stock markets across Asia moved in a tight range and even S&P 500 Index futures, which rose as much as 0.6 percent earlier, were struggling for direction.
So what are investors waiting for? The big overhang could be the earnings results of tech behemoth Tencent Holdings Ltd., slated to be released after Wednesday's market close. It does have the biggest weighting on the regional benchmark. And trading volume on the Hang Seng Index was about a quarter lower than normal, perhaps as investors hold off on making any decisions until profit numbers come in.
Our preview here shows that the options market is pricing in the biggest post-results reaction since 2015. The industry accounts for almost a fifth of Asia's stock index and so far, several Chinese tech companies have reported worse-than-expected results. Add to that the fact that at least 11 brokers tracked by Bloomberg have cut their price targets for Tencent this month. The company has already lost $243 billion in market cap since January.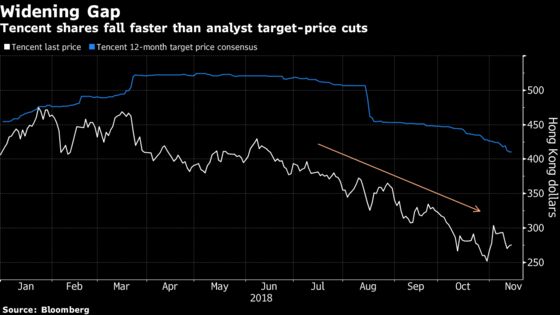 It's not like there hasn't been a lot of news to trade on:
There was the Bloomberg scoop that the Trump administration was said to hold off for now on imposing new tariffs on automobile imports. Japan automakers soared when the headlines hit and pared their gains.
Before that, Larry Kudlow said the U.S. and China resumed contact "at all levels" over trade ahead of a planned meeting between Trump and Xi.
Economic data from China signaled some stabilization for policy makers grappling with the slowest economic growth in nearly a decade.
Japan's economy contracted in the third quarter for the second time this year.
MSCI Inc. released the results of its semi-annual review. Click here to read our wrap.
Oil showed no sign of recovering from its unprecedented decline. Energy companies in the MSCI Asia Pacific Index were the biggest losers Wednesday, slumping as much as 2.3 percent (airlines got a nice lift though).
U.K. Prime Minister Theresa May clinched a Brexit deal with the EU after months of deadlock.
And yet, the MSCI Asia Pacific Index was down 0.2 percent at 4:34 p.m. in Hong Kong, with Japan's Topix index closing up just 0.2 percent.
Setting aside Tencent and the tech-investment dilemma, Australia was the biggest loser, with a staggering 1.7 percent slump in its benchmark on Wednesday, taking its two-day loss to the largest since February. Crude's plunge has had a huge impact on the gauge as stocks like Beach Energy Ltd. and WorleyParsons Ltd. tumbled.
This decline in the commodity has also led to a slump in China's Shanghai Composite Index, which closed 0.9 percent lower, dragged down by PetroChina Co. and China Petroleum & Chemical Corp.
Wednesday is looking like a big day in the U.S., with the 13-F filings deadline and inflation data. The Question of the Day for our Markets Live blog is: What will hedge-fund filings show on U.S. stock leadership? MLIV strategist Mark Cranfield said these filings could have the most value to contrarian investors rather than momentum followers. Email marketslive@bloomberg.net to join the debate.
Tokyo Seimitsu Rises Most Since 2011 on Better Earnings Outlook
THK Declines as 3Q Profits Miss Estimates and Orders Tumble
Metrobank Jumps as MSCI Weight Increase Seen to Boost Shares
Asia Power Producers Jump as Lower Oil Cuts Gas Costs
Japan's Topix index up 0.2%; Nikkei 225 up 0.2%
Hong Kong's Hang Seng Index down 0.5%; Hang Seng China Enterprises down 0.7%; Shanghai Composite down 0.9%
Taiwan's Taiex index up 0.2%
South Korea's Kospi index down 0.2%; Kospi 200 down 0.3%
Australia's S&P/ASX 200 down 1.7%; New Zealand's S&P/NZX 50 down 0.4%
India's S&P BSE Sensex Index down 0.1%; NSE Nifty 50 down 0.2%
Singapore's Straits Times Index down 0.6%; Malaysia's KLCI down 0.2%; Philippine Stock Exchange up 1.2%; Jakarta Composite up 0.7%; Thailand's SET down 0.6%; Vietnam's VN Index down 0.5%