Nissan Shouldn't Have Sold Bonds Amid Ghosn Probe, Investors Say
(Bloomberg) -- Nissan Motor Co. was already investigating Chairman Carlos Ghosn when its auto-financing arm pushed ahead in selling 60 billion yen ($532 million) of bonds last month, a move now criticized by buyers of the debt.
Wholly owned subsidiary Nissan Financial Services Co. priced three- and five-year notes on Oct. 12, a sale which had been delayed from July. On Nov. 19, Nissan chief executive officer Hiroto Saikawa announced that the company had been conducting an internal investigation lasting "several months." Ghosn was arrested the same day in Tokyo, causing the cost of credit protection to spike to the highest in 2 1/2 years.
The timing of the issuance demonstrates a low level of corporate governance, and top management should have aborted the sale due to such a serious investigation, said some purchasers of the debt, who requested anonymity because internal rules prohibit disclosures about their specific investments.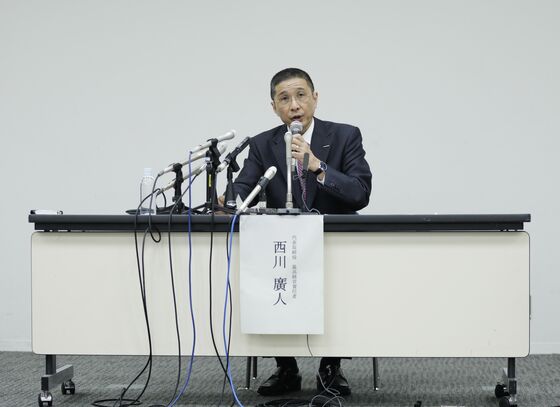 "Some people inside Nissan knew about the investigation, and I think it's disingenuous for them to have issued new debt under those circumstances," said Takahiro Oashi, a senior fund manager at Asahi Life Asset Management, who refrained from saying whether he was among the buyers. "The next time they try to tap the market, I expect they'll need to issue at higher spreads and yields."
A Nissan spokesman declined to comment.
Nissan Financial, which provides loans to the automaker's Japanese customers, is a frequent borrower, issuing debt every year since 2003.
Ghosn's arrest is the latest in a series of scandals to rock Japan's second-largest car manufacturer. In July, Nissan Financial delayed the bond offering after the automaker revealed it had falsified emissions and fuel-economy data. Only months earlier, a lapse involving uncertified vehicle inspectors forced the recall of 1.2 million vehicles.
The latest revelation may be the most damaging, putting the Nissan's long-term credibility at risk, according to Daiwa Securities Co.
"It's not an overstatement to say that Nissan's governance appraisal has completely fallen to the ground," the firm's Tokyo-based chief credit analyst, Toshiyasu Ohashi, wrote in a report this week.