Nikkei-Topping Chip Stocks Poised to Extend Gains in 2020
(Bloomberg) -- A dramatic turnaround in semiconductor stocks has been the hottest theme in Japan's stock market this year, and it may just be the tip of the iceberg.
Advantest Corp. is the Nikkei 225 Stock Average's runaway winner for 2019, up almost 150% with a couple of weeks remaining. After languishing well into the summer, the stock took off in the second half, helped by expectations for 5G communications technology. A similar rebound was seen in chip equipment peers Tokyo Electron Ltd. and Screen Holdings Co., which are also in the Nikkei's top 10 best performers.
Tech gains have helped boost one of this year's best-performing large funds focused on Japan. Fidelity's Japan Growth Fund is up 27%, beating 96% of its peers and outpacing the Nikkei's 255 17% advance.
"Around mid-year, semiconductor-related stocks and electronic part makers' earnings had bottomed and started to make a comeback," said Takashi Maruyama, head of Japan equities for Fidelity International. "We had already incorporated them into our fund. Markets became concerned when semiconductor shares fell around June, but we maintained our position."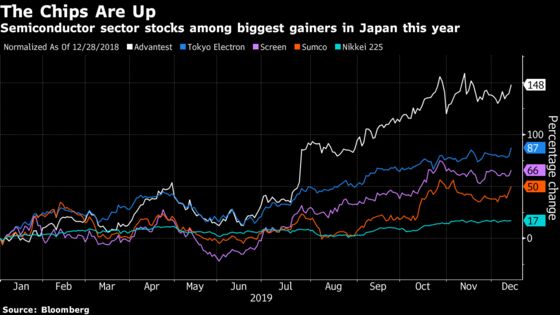 The chip equipment makers were all in the top 10 gainers again Thursday, along with silicon wafer maker Sumco Corp. A trade show taking place this week in Tokyo is just the latest tailwind.
"Semicon Japan taking place right now seems to have re-energized semi names, as the recovery prospects for next year are firming up," Amir Anvarzadeh, a market strategist at Asymmetric Advisors, said in a note. "Memory, which has been the missing piece, is showing good signs of bottoming out, led by data center growth but also promise of higher density LP-DDR DRAMs and NAND for 5G smartphones going into next year."
Chip stocks have been the leaders in the U.S. this year as well. Peers got a boost overnight as BofA said Apple Inc.'s expected 5G iPhone will be a positive catalyst for chipmaker Qualcomm Inc., a customer of Sumco, Advantest and Tokyo Electron.
The World Semiconductor Trade Statistics predicts the chip market will rebound from a decline this year to 6% growth next year, to $433 billion, according to a report from CLSA Securities Japan. While global trade conflicts and the 2020 elections in the U.S. pose potential risks, the market outlook remains bright, the broker said.
"Rollout of 5G services and the hyperscale data-center capital investment cycle point to considerably better demand conditions for memory in 2021," CLSA analyst Yu Yoshida wrote in a report dated Monday. "We would regard any share-price weakness in 2020 due to political risk as an opportunity to buy for 2021."