Japan's Nikkei 225 Pares Loss After Flirting With Correction
(Bloomberg) -- Japan's Nikkei 225 Stock Average pared losses that had pushed it toward a correction following the country's decision to declare another state of emergency in Tokyo to contain the continued virus spread.
The blue-chip measure fell 0.6% at the 3 p.m. close in Tokyo, after sliding as much as 2.5% and briefly extending its drop from a February peak to more than 10%. The broader Topix index was 5% below its March high.
"Stocks were oversold a bit," said Mamoru Shimode, the chief strategist at Resona Asset Management. "On technicals, the Nikkei 225 touched its 200-day moving average, so we're at a phase where you've got to see some rebound."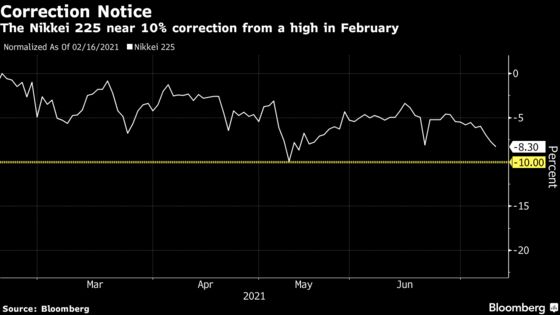 Just two weeks ahead of the spectator-free Olympic Games, prolonged virus countermeasures restricting economic activity are spurring concern over a delayed recovery for Japan, which had already disappointed many investors during the last earnings season. Globally, a stock rebound from pandemic lows driven by technology heavyweights has been tempered by higher U.S. inflation and concern over potential tapering of easy monetary policies.
"It was expected that the market would be weak this week," said Hideyuki Suzuki, a general manager at SBI Securities, pointing to an annual flood of selling as exchange-traded funds ready dividend payouts. "On top of that, you have concerns over the U.S. recovery, the pandemic, and vaccinations peaking."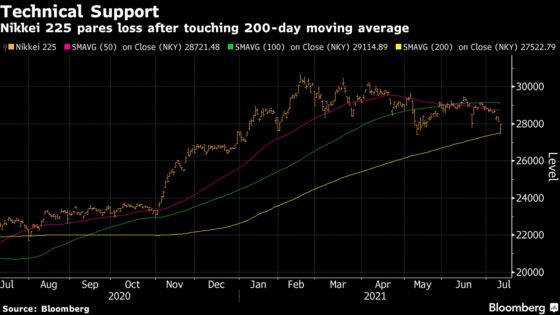 Japanese Stocks Set for Annual Jolt From $543 Billion ETF Market
Losses in the Nikkei 225 have also been compounded by the withdrawal of key buyers. The Bank of Japan in April stopped purchases of exchange-traded funds linked to the blue-chip measure, shifting its market support focus to the Topix. SoftBank Group Corp., which until recently had the second-largest weighting on the Nikkei 225, has fallen since it ended its buyback program, and tumbled further this week after Chinese regulators ordered app stores to remove the ride-sharing app of Didi Global Inc.
Japan is one of the worst performers this year among developed markets tracked by Bloomberg. While the Nikkei 225 is now up less than 2% on the year, the S&P 500 Index has gained 15%.
It's a stark reversal from February, when the Nikkei 225 breached the 30,000 level for the first time since 1990, fueled by global stimulus and hopes for an economic recovery from the pandemic.
"After the Olympics is behind us and we have clarity on events like the September general election, equities are likely to recover toward the end of this year," said Resona's Shimode. "We are likely to see Japanese equities playing catch-up."