Nikkei 225 Beats Topix by Most in 20 Years on 'Abnormal' Move
(Bloomberg) -- In Japanese equities, a gauge of the country's biggest shares is beating the general market by the most in two decades.
The closing price of the blue-chip Nikkei 225 Stock Average was 13.4 times that of the broad Topix index on Nov. 29, the highest level for the measure known as the NT ratio since 1998.
The outperformance is the result of an "abnormal" move in the Nikkei 225, according to Norihiro Fujito, chief investment strategist at Mitsubishi UFJ Morgan Stanley Securities Co. in Tokyo. The Nikkei 225 ranks its companies by the arbitrary measure of the price of one share, unlike most stock indexes where market capitalization -- or size -- is key.
Some of the companies that make up the biggest proportions of the Nikkei 225 have been standout performers this year. Take FamilyMart UNY Holdings Co., a convenience-store operator whose shares have more than doubled in 2018. The stock has the fourth-largest weighting on the Nikkei 225, accounting for 2.7 percent of the index, which is more than 14 times its weighting on the Topix.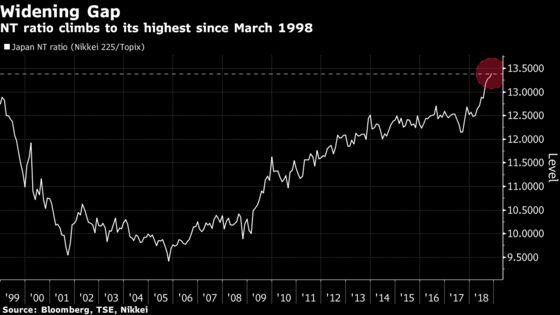 Another example is Fast Retailing Co., which has the largest weighting in the Nikkei 225, comprising almost 10 percent of the gauge, compared with just 0.3 percent of the Topix. Its shares are up 31 percent this year, set for their best annual performance since 2013.
And SoftBank Group Corp., which accounts for 4.7 percent of the Nikkei 225, rose in November ahead of the initial public offering of its mobile unit.
The Nikkei 225 is down 1.8 percent this year versus an 8.3 percent decline in the Topix.
To Fujito, the Nikkei 225's outperformance is just a reminder of the drawbacks of price-weighted stock indexes.
"If a hedge fund wanted to artificially boost the level of the Nikkei 225, they don't have to buy 220-something stocks," he said. "They could have a significant impact by putting selected shares into a basket and buying them."
Still, it's difficult to ignore the Nikkei 225. It's the most common benchmark for pricing derivatives in the country's $5.8 trillion equity market.
"The Topix is what reflects reality," Fujito said. "It's an irony that despite its big flaw, the Nikkei 225 is such a well-recognized measure."