Nigeria's Opposition Candidate Pledges to Cut Gasoline Price
(Bloomberg) -- Nigeria's opposition candidate Atiku Abubakar has pledged to cut gasoline prices if he defeats incumbent Muhammadu Buhari in the February presidential race.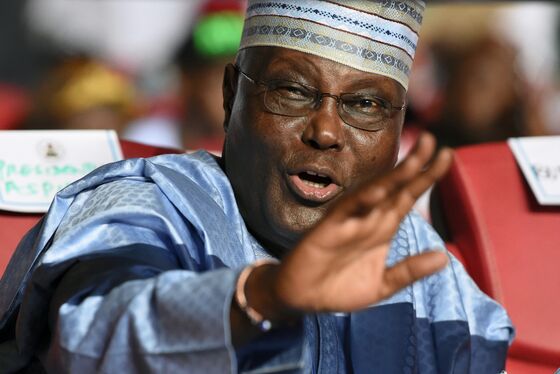 With the current "subsidy regime," gasoline retail prices in Africa's largest crude producer can be as low as 87 naira ($0.24) per liter, the opposition People's Democratic Party said in an emailed statement on Thursday. That compares with the government's cap of 145 naira for the same measure, and is well below what it costs to produce and transport the product. Lagos-based investment bank Chapel Hill Denham estimates that Nigeria's gasoline price would be around 213 naira a liter if left to market forces.
Nigeria Spent $1.3b on Gasoline Subsidies in First Half: RenCap
The pledge by Abubakar, a former vice president, will be received well by the Nigerian public, who despite paying one of the lowest gasoline prices in the world, have resisted increases with street demonstrations in the past.
The proposal suggests that leaving gasoline prices to be determined by market forces will remain unlikely as subsidies continue to weigh on the nation's fiscal position.
Abubakar is sending mixed signals after he branded himself as a pro-business candidate. Like some investors, he criticized the central bank for allowing several foreign-exchange rates.
Despite producing more than 1.8 million barrels of crude oil daily, Nigeria, Africa's most populous nation with 200 million inhabitants, imports most of its refined petroleum products because its refineries are decrepit. Nigerian billionaire Aliko Dangote is building a 650,000 barrels-a-day refinery, which could cut drastically the nation's fuel import bill when ready.