Next Tuesday 4:05pm Needs to Be on Your Calendar: Taking Stock
(Bloomberg) -- The bounce continues, both on U.S. stock futures and elsewhere in global markets, with almost everyone pointing to Thursday afternoon's swift plunge (where the TICK index sank to its lowest since the 2010 "Flash Crash") as the potential bottom for this market correction, at least in the very near term.
The flurry of downticks, likely caused by massive sell programs from algos that begat more selling from other algos, took the S&P 500 further below its 200-day moving average of ~2,766 (see chart below). But technicals will be very much back in play given the action we're seeing this morning, with the SPX looking to open right back around that level if all holds.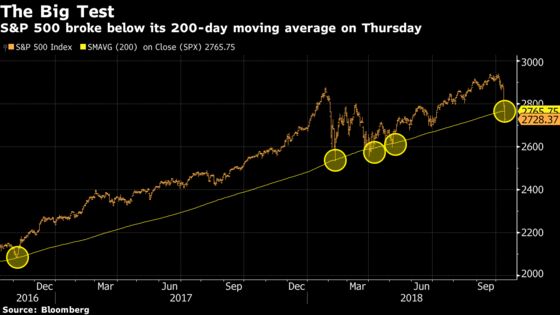 The banks as earnings are just starting to roll in: JPMorgan is up ~1.5% (equities beat, FICC missed is the early read); Citi and Wells Fargo are up next
Tobacco stocks Philip Morris and Altria may be weak, as they were in Europe, on concerns that the FDA will propose strict limits on the amount of nicotine in traditional cigarettes
The video game group after Activision's overnight release of "Call of Duty: Black Ops IV" with a new Battle Royale mode (Fortnite killer?) that could propel shares higher
The pot stocks on a negative initiation from a Canadian boutique
The yield proxy sectors like the utilities, REITs and staples with a ton of potentially "loco" Fed speak on tap
You should probably circle Tuesday 4:05pm in your calendar for what's likely to be the most crucial company-specific catalyst of the week, and perhaps for the entire earnings season.
That's when streaming behemoth Netflix, the "N" in FAANG, and its $140 billion in market value, goes under the microscope with its much-anticipated third-quarter earnings report. Here's why you need to pay attention:
1) It's the first of the FAANGs to report, so it could set the tone for tech earnings season given the recent implosion in the sector
2) It's a momentum stock with relatively high hedge-fund ownership that's been under duress with the rest of them since the beginning of the month (NFLX -14% in October, second worst in the NYSE FANG+ Index); see Thursday's Taking Stock for more on the bloodbath in the hedge fund hotels
3) It's one of the best performers in the S&P 500 this year, up almost 70%, but it's also testing its 200-day moving average for the first time in more than two years (see chart below)
4) And most importantly, last quarter's subscribers miss shocked the financial community -- NFLX tanked as much as 14% the next day and hasn't recovered ever since -- and the consensus is that the company can't afford to whiff again; Macquarie echoes this: "A second straight subscriber miss would likely be taken very negatively by the street, and we would expect a more protracted decline in the share price than we saw in seasonally weak Q2."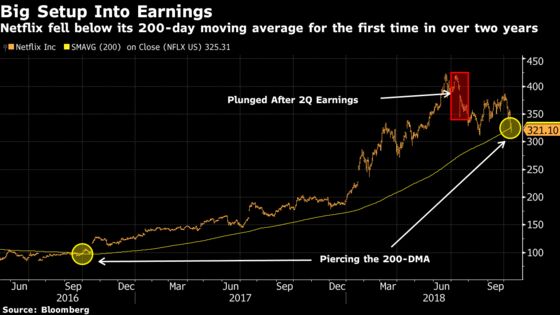 And just this morning, Citi has decided enough is enough and raised its rating on Netflix to a buy on valuation, noting that the setup into earnings is attractive as buy-side expectations for 4Q guidance is already "sufficiently low/conservative."
The first heavy week of earnings is the clear focus. Aside from the all-important Netflix print (mentioned above), we'll also get tech results from Taiwan Semi, where a surprise could easily spark a move in the SOX (like in April when a disappointing forecast led to a rout in the chip space) and semicap equipment name Lam Research -- the SOX is in a very interesting spot ahead of these catalysts (see chart below). IBM and fintech giant PayPal will also report.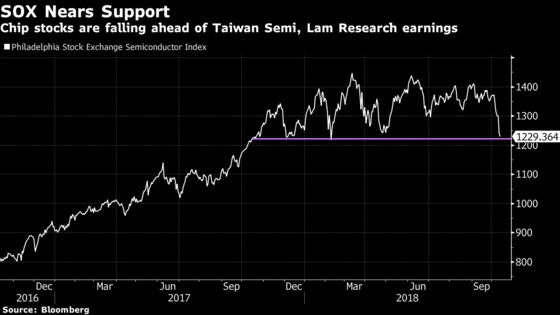 Results in the industrials and materials space should also be under heavy scrutiny given the worrisome margin pressures and/or tariff impact commentary that started with preliminary numbers from coatings firm PPG (full results hit Thursday) and later found its way into statements released by chemical smidcap Trinseo, infrastructure name Fluor, and distributor Fastenal, whose peer Grainger is on deck to report Tuesday. The names to watch here are Honeywell, CSX, Canadian Pacific, United Continental, and Nucor.
The other big reports to watch are spread out across the financials (Bank of America, Goldman Sachs, Morgan Stanley, BlackRock, Blackstone, American Express), consumer staples (Procter & Gamble, Philip Morris), health care (UnitedHealth, J&J, Abbot Labs, Novartis, Intuitive Surgical), and oil service titan Schlumberger.
Lastly, the most gargantuan non-earnings event in the corporate world comes from Dow member Walmart, which is expected to give earnings guidance and margin commentary at its annual investment community meeting on Tuesday. Oh, and Canada will legalize pot on Wednesday, so I guess we should all continue to eye Tilray and its ilk for the near term.
Notes From the Sell Side
Tons of action in the tech space today, starting with upgrades of Netflix from Citi mentioned above as well as Microsoft from Macquarie.
Pivotal Research is upgrading Twitter from a sell to a hold and Snap from a hold to a buy after their selloffs (though remains sell on Facebook); they acknowledge that the Snap upgrade is the more controversial of the two given concerns about declining usage and liquidity, though their data they're looking at shows a widening user base.
Speaking of Facebook, Morgan Stanley is cutting its 2019 ad revenue estimate on the overweight-rated stock due to growing headwinds, with the largest being lower-monetizing Stories engagement. Separately, the firm says that the selloff in midcap software likely isn't over yet and recommends looking into larger cap names like Microsoft, Salesforce, Palo Alto, ServiceNow, Proofpoint, CyberArk, Nuance, and Veeva.
Square keeps getting defended after its ~30% month-to-date rout, with Canaccord upgrading the stock to a buy today (though admitting they've been on the wrong side of the trade with a hold rating for years while shares went straight up) and Nomura Instinet telling clients to focus on the "ever strengthening" fundamentals instead of the CFO departure, which is "unlikely to disrupt the innovation engine behind SQ."
And four Canadian pot stocks (Canopy Growth, Cronos, Aurora Cannabis, Aphria) were initiated with sell ratings at Veritas.
Tick-by-Tick Guide to Today's Actionable Events
7:00am -- Mnuchin to appear on CNBC
8:00am -- C, WFC, FRC earnings
8:30am -- Import Price Index
9:30am -- Fed's Evans in moderated discussion on economy
9:30am -- PNC earnings call
9:30am -- IPOs start trading after the open: Anaplan (PLAN), Equillium (EQ)
10:00am -- University of Michigan Sentiment
10:00am -- WFC earnings call
11:30am -- C earnings call
12:30pm -- Fed's Bostic talks recruitment, economics, and public policy
10:30pm -- Fed's Quarles speaks at event in Bali
4:10pm -- Wells Fargo CFO John Shrewsberry on Bloomberg TV