New York Fed Examines Why Overnights Are Good for U.S. Stocks
(Bloomberg) -- Financial markets trading 24 hours a day has benefited the S&P 500 because it allows market makers to offload surplus securities at favorable terms outside U.S. trading hours, research has shown.
S&P 500 futures returns have tended toward the positive around the opening of non-U.S. exchanges ever since electronic trading in them started in the late 1990s and has since migrated from Europe to Asia, according to the Federal Reserve Bank of New York's Liberty Street Economics blog. This occurs as market makers take the earliest opportunity to bring their inventories back to neutral, it said, and the authors refer to it as the "overnight drift."
"Market makers are willing to take on the inventory risk at the end of the U.S. trading day because they expect to be able to sell this inventory at a higher price," said the blog post from Nina Boyarchenko of the New York Fed's Research and Statistics Group, Lars C. Larsen, a PhD fellow at the Copenhagen Business School and Paul Whelan, an assistant professor in finance at the Copenhagen Business School. They cited earlier research.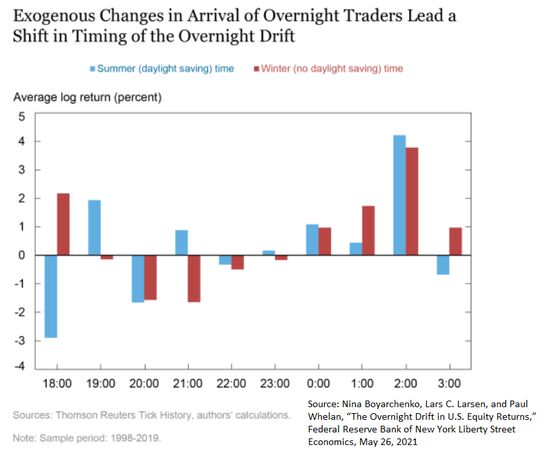 Trading patterns based on the time of day have been evident for years. The largest positive returns in the study's 1998–2019 sample have accrued between 2 a.m. and 3 a.m. New York time -- the European open -- and averaged 3.6% on an annualized basis, the authors said.
"As new market participants arrive -- overnight due to the round-the-clock trading in this market -- market makers offload their inventory and prices gradually rise," they said, adding that this played "a positive role for financial market globalization."
Buying S&P 500 futures or a related product like the SPDR S&P 500 ETF Trust at the market open and selling at the close was flagged by Susquehanna Financial Group LLLP and Bespoke Investment Group early last year as a potentially successful trade. In May 2020, Susquehanna noted that the last hour of the U.S. session was bad.