WorldQuant's New Fund Said to Lose 9.5% as Chaos Smashes Algos
(Bloomberg) -- WorldQuant's first fund for outside investors lagged behind its target index in October and has underperformed the benchmark since it started, according to people who have been briefed on the returns.
The $2.6 billion quant stock fund, a joint venture between Igor Tulchinsky's WorldQuant and Izzy Englander's Millennium Management, is designed to significantly outperform the MSCI World Index, said the people, asking not to be identified because the returns haven't been publicly disclosed. The fund, which started in May, dropped 9.5 percent in October, compared with a 7.3 percent decline in the index.
Since inception, the WorldQuant fund has lost 2.86 percent, exceeding the 2.2 percent loss in its benchmark index over the same time period, the people said. A spokesman for WorldQuant declined to comment.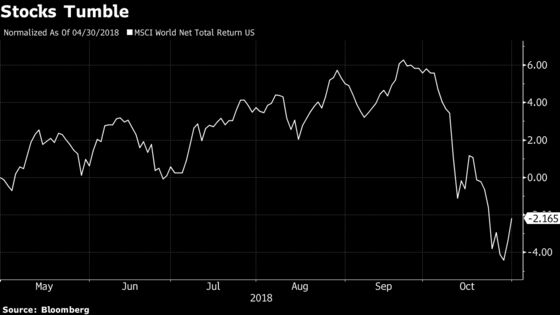 Global stocks plummeted the most in more than six years in October and tore through money pools that slice and dice assets based on factors such as momentum, value and growth. Funds that use computer-driven models to follow big market trends were whiplashed as price volatility spiked. Among the casualties: Leda Braga's BlueTrend hedge fund, GAM Holding AG's Cantab unit and Man Group Plc's AHL unit.
Millennium's main hedge fund lost about 1 percent last month, with quant and statistical arbitrage strategies leading the decline, according to a newsletter. The fund is up more than 7 percent this year.
Until May, Old Greenwich, Connecticut-based WorldQuant managed about $5 billion exclusively for Millennium, which oversees about $35 billion in all. The new fund has 170 percent long exposure and 70 percent short exposure, and is managed with a longer holding period than the money that WorldQuant manages for Englander's fund. Such funds -- which have a higher exposure to the market than many hedge fund peers -- tend to be more volatile during selloffs.
Investors pay either a 1.35 percent fixed fee or the greater of a 0.9 percent fixed rate or 30 percent of the return in excess of the MSCI index. The fund is designed to beat the MSCI World Index by 300 to 600 basis points annually.
WorldQuant has about 1,000 research consultants from around the globe looking for so-called alphas, signals that predict price movements. It also employs 493 investing professionals who work full time at the firm, according to the people.