New Test May Be in the Cards for the Nikkei 225 as Calls Pile Up
(Bloomberg) -- The rally that added $710 billion to Japanese stock values could soon face a new test.
That's according to Hideyuki Ishiguro, a senior strategist at Daiwa Securities Co. in Tokyo, who sees 21,500 as a key level for the Nikkei 225 Stock Average after traders piled into call options with that strike. The blue-chip gauge climbed for a second week, closing at 21,425.51 Friday.
"A lot of domestic investors view the 21,500 level as the maximum level that the Nikkei 225 could rebound to," Ishiguro said. In fact, the number of outstanding 21,500 calls expiring March 8 has almost doubled since the end of January, data compiled by Bloomberg show. "If the Nikkei 225 breaks above that level, however, and as the extent of the deviation gets greater, the gauge could get an upward boost" with traders scrambling to hedge or unwind their positions, he added.
Thanks to a rebound in tech stocks, increased share buybacks, strong earnings and optimism over U.S.-China trade talks, the Nikkei 225 has regained 12 percent since it entered a bear market on Christmas Day. At the same time, bullish traders have pushed the cost of hedging against declines in the index to their lowest level since September.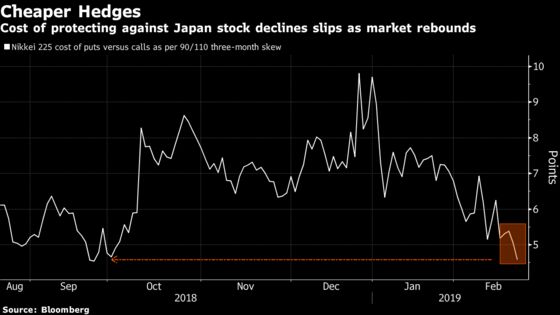 The question now is whether the rebound can be sustained. Trade discussions between the U.S. and China, the Federal Reserve's monetary-policy direction, worries about a global economic slowdown and the outlook for local corporate earnings all are in investors' minds.
And while the Nikkei 225 March 8, 21,500 call has seen a jump in open interest, all most-owned Nikkei 225 options are bearish. The ratio of outstanding puts to calls is near a 13-year high, data compiled by Bloomberg show.