New S&P 500 Group Now Most Popular With Funds as Tech De-FANGed
(Bloomberg) -- There's a new kid in the U.S. stock market, and it's already winning a popularity contest.
The freshly minted communication services group will have a bigger representation in active funds than any of the other S&P 500 Index sectors when it debuts Monday, according to Bank of America. The industry, created amid the biggest reshuffling of the Global Industry Classification Standard since 1999, replaces consumer discretionary atop the ranking.
Surprised? Don't be. Communication services hardly has the makeup of an expansion team. A couple of tech's most popular names -- Facebook Inc. and Alphabet Inc. -- will migrate to it, along with Netflix Inc., which is leaving consumer discretionary. That's three of the four FANG cohort on the move, with only Amazon.com staying put.
Twenty-three other stocks, ranging from media to telecom and social media, will also join. Among the most notable: Comcast, Walt Disney, AT&T, and Twitter.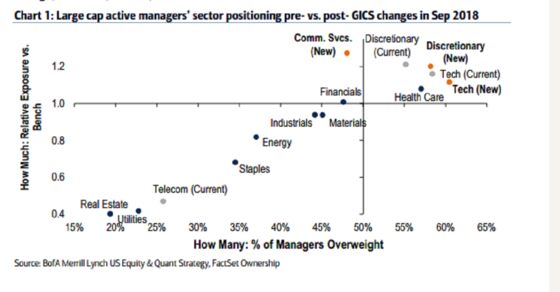 Index overseers S&P Global Inc. and MSCI Inc. say the creation of the new group helps the market align with the economy now that internet and smartphones play an outsize role in people's daily lives. For money managers, the reordering is likely to expose some hidden risk in sector positioning.
"With communication services, the large-cap growth managers are going to be extremely overweight that sector and find themselves underweight traditional tech," Steven Desanctis, a New York-based strategist with Jefferies, said by phone. "A lot of long only active managers try to keep their sector weight somewhat in line with their benchmark," he said. "You might see some rotation."
Large-cap managers held more money in communications stocks than the group's expected representation in benchmark indexes, according to data compiled by BofA strategist Savita Subramanian. At around 1.2 percentage points, the excessive ownership surpassed that for all other 10 industries under the new system.
Maybe not coincidentally, communications shares have lagged behind the market. The Communication Services Select Sector SPDR Fund, an ETF launched by State Street in June in anticipation of the changes, has fallen 3 percent since its creation, compared with a 6 percent gain in S&P 500.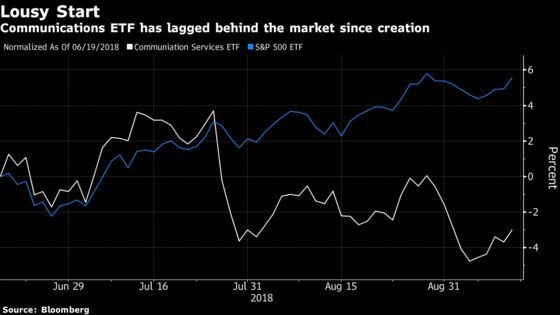 Goldman Sachs studied hedge fund positioning and found that communications will make up a bigger part of their portfolios while tech stocks become "a substantial underweight."
With a new category housing some of the most popular stocks, investors may find it easier to raise holdings in their favorite companies without triggering alarms on a sector level, according to Ben Snider and David Kostin, strategists with Goldman Sachs.
Take technology for instance. The group makes up 26 percent of the S&P 500 by weighting, 11 percentage points higher than health care, the next biggest. After the GICS change, tech's weight will drop to 21 percent, narrowing that gap by almost half. Communication services will account for roughly 10 percent.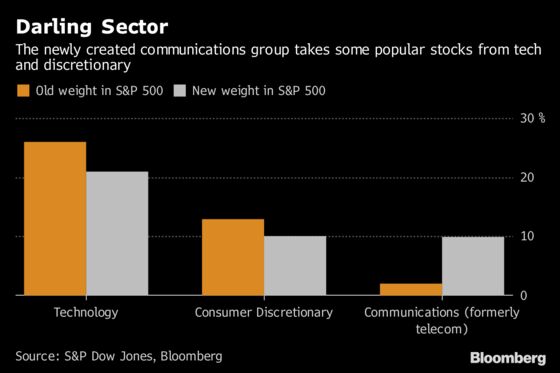 "Distributing the weights of popular stocks into multiple sectors will reduce perceived portfolio concentration and sector risk, which could increase demand for fund favorite stocks and sectors," Snider and Kostin wrote in a note last Friday.