New Online Retail ETF Debuts on `Prime Day' With Big Amazon Bet
(Bloomberg) -- While Amazon.com Inc.'s "Prime Day" aims to entice investors with its annual deals, one asset manager hoped to use it to lure buyers to its latest ETF.
On Monday, ProShares Advisors launched the ProShares Online Retail ETF, or ONLN, an exchange-traded fund with over 40 percent of the portfolio invested in Amazon and global e-commerce behemoth Alibaba Group Holding Ltd. It's the third in ProShares' line of online retail-focused funds, and it has the second largest exposure to Alibaba among all U.S.-listed ETFs after the Invesco BLDRS Emerging Market 50 ADR fund, ticker ADRE.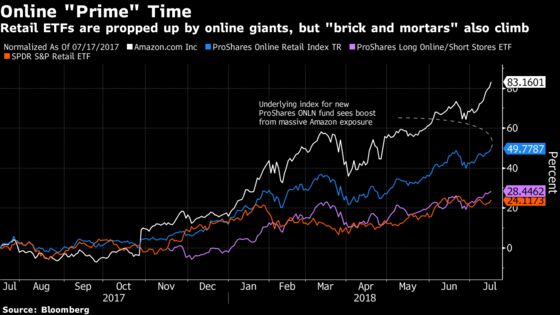 While online stores like Amazon have gained ground against traditional bricks-and-mortar retailers, more traditional stores haven't done as poorly as many analysts expected. To date, only 10 percent of global retail sales are made online, according to U.S. census data. And U.S. same-store sales this year are up 3.3 percent from a year ago, according to Redbook data released Tuesday.
"Retail stocks started the year flying high and reacted well to a strong fourth-quarter earnings period when profits were announced earlier this year," said Todd Rosenbluth, director of ETF and mutual fund research at CFRA Research. "While the bag was mixed on first-quarter results, companies that showed improvement in same store sales or progress on turnaround plans were rewarded."