New Blow to Nordic Power Seen Just After Star Trader's Default
(Bloomberg) -- The Nordic power market is still in shock after star trader Einar Aas ran out of money and was expelled from the market last month, but there's already a new threat on the horizon.
The risk that one of Norway's biggest power consumers will have to cut or halt output at its giant aluminum smelters this winter is cutting prices and would hamper buying and selling. And that's after Nasdaq Inc. said on Monday that trading activity last month declined 12 percent, the most since March, as the Aas default spooked the market.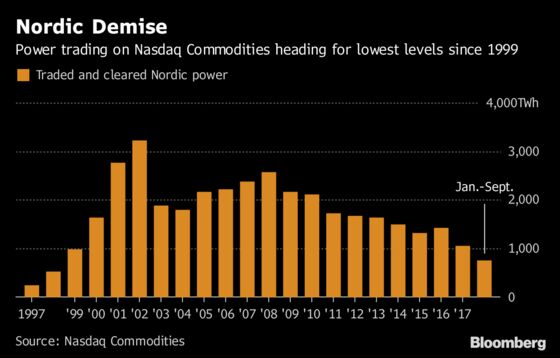 Norsk Hydro ASA said on Wednesday it had temporarily shut its Alunorte alumina refinery in Brazil due to a long standing dispute over waste treatment. The plant is the main supplier to the company's Norwegian smelters, which account for as much as 4 percent of the Nordic market's electricity consumption.
While Norsk Hydro is trying to secure supplies from elsewhere to stay open, Nordic power traders are concerned that the loss of one of its biggest consumers, even on a temporary basis, could send prices lower. Societe Generale SA said last week that a slump in Nordic wholesale rates had been distorted in the aftermath of the Aas default and the work done to unwind positions.
The loss of annual demand of more than 15 terawatt-hours could cut electricity prices by about 10 percent, according to Wattsight AS, an industry analyst. The November contract slid 3.6 percent on Wednesday, the most since Sept. 14.
"If there had been any information that Hydro was definitely closing down, there would have been a much bigger reaction in the market," Tor Reier Lilleholt, Wattsight's head of analysis, said by phone from Arendal, Norway. "There are so many uncertainties and the market needs a lot more information before they can fully price it in."
Norsk Hydro will now have to secure supplies in a market already hampered by previous cuts at Alunorte and a strained alumina situation due to sanctions issued by the U.S. against Russia. The company's Norwegian plants are fully supplied at the moment, but cuts or halts later in the year can't be ruled out if there's not enough raw material to replace the Brazilian output, a spokesman said on Wednesday.