New Biotech IPO Dropped a Unicorn-Sized Value on Its First Day
(Bloomberg) -- Moderna Inc.'s decision to go public as the latest biotechnology unicorn garnered a lot of excitement on Wall Street -- and then it fell flat.
The drugmaker's move to launch the sector's largest-ever IPO was met with a thud as it shed more than a billion dollars of its market value in less than five hours of trading amid a broader market sell-off. The stock closed at $18.60 despite pricing an expanded offering at $23 each. The $1.4 billion Moderna lost in value is greater than the market value of more than half the companies in the Nasdaq Biotechnology Index.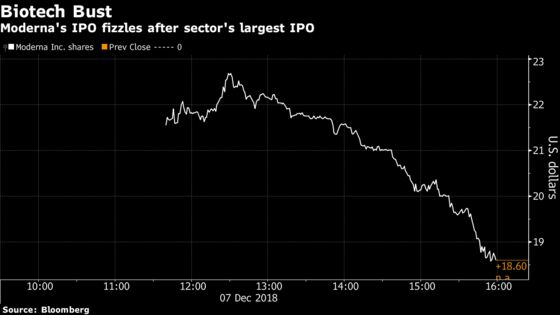 The company boasts partnerships with sector juggernauts including Merck & Co. and AstraZeneca Plc, so its growth prospects have attracted notable attention across the sector. But pricing an IPO is awfully problematic when the Nasdaq Biotechnology Index -- a key measure of investor sentiment about the drug industry -- is falling 3.2 percent, outpacing losses even in the broader U.S. market.