Never Mind the Fed: Reliable S&P 500 Rescuer Poised to Return
(Bloomberg) -- While investors debate whether the Federal Reserve will rescue stocks, one reliable source of support for the market is poised to return.
That's discretionary corporate buybacks, whose absence due to an earnings-related blackout coincided with this month's S&P 500's sell-off, one of the worst during this bull market. As reporting season draws to a close, however, planned share repurchases will surge as blackouts roll off, allowing companies to set a floor to the market should they opt to scoop up their own shares.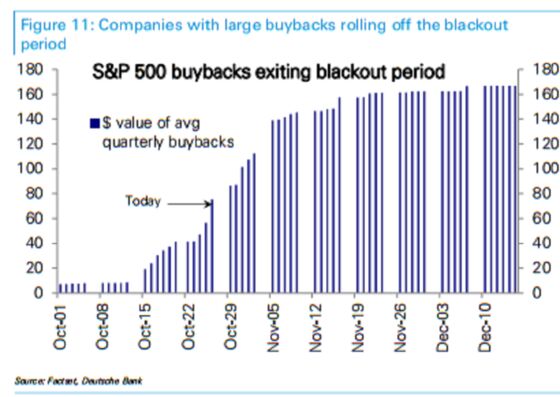 About $110 billion of planned buybacks will be freed up this week, more than twice last week's $50 billion, and that total will rise to $145 billion next week, Deutsche Bank AG estimated. While it's unlikely all the money will be spent at once, the data point to potentially improving market liquidity.
Along with dividend payments that shareholders tend to reinvest in stocks, actual demand from corporate America will surge to $48 billion a week by mid November, up from $10 billion currently, UBS Group AG strategists led by Keith Parker estimated.
"As the blackout period rolls off for more companies, especially those with large buyback programs, the pace of buybacks will ramp up sharply," Deutsche Bank strategists including Parag Thatte and Binky Chadha wrote in a note to clients late Friday. "Buybacks have been the main driver of the equity rally in this cycle. In the absence of outflows and further positioning cuts, which require incrementally negative news, buybacks should drive equities higher."
Discretionary buybacks have gained traction in recent years, with corporate appetite dwarfing all other investors as the biggest source of demand for U.S. stocks. More than $7 trillion has been returned to shareholders in the form of buybacks and dividends since the bull market started in March 2009, according to data compiled by S&P Dow Jones Indices. That's equivalent to 40 percent of the value that stocks in the S&P 500 Index added during that stretch.