Netflix Is Rebounding and Taking Tech With It
(Bloomberg) -- Netflix Inc. shares pared their worst drop in two years, regaining a 50-day moving average seen as a key support level for the stock.
Shares of the streaming-video provider fell 5.8 percent to $377.45 at 12:03 p.m. in New York, after earlier declining as much as 14 percent after a disappointing second-quarter earnings report. The 50-day moving average is about $370.74, and the stock hasn't closed below that threshold since early April.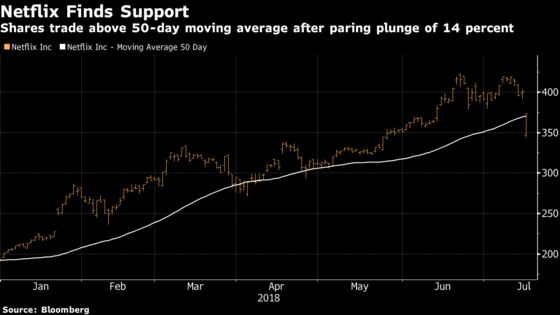 "For those who wanted an entry point, here it is," Bernstein analyst Todd Juenger said in an earlier note to clients. Netflix is still the second-best performer in the S&P 500 Index this year with a 98 percent gain, trailing only medical-device maker Abiomed Inc.
Options traders were in no rush to hedge against potential losses in Netflix shares going into the earnings release Monday afternoon. The cost of protecting against a 10 percent drop in the stock fell to the lowest level since February, data compiled by Bloomberg show.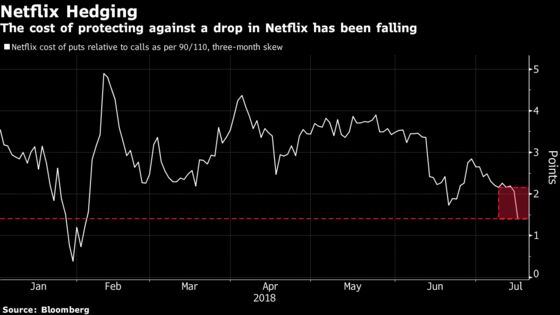 The Netflix rebound came amid a broader rally in tech stocks. Megacap tech peers Amazon.com Inc., Facebook Inc. and Alphabet Inc. Are all trading at record highs Tuesday, along with the Nasdaq Composite Index.