Netflix Options Show Opinions Split on Post-Earnings Share Move
(Bloomberg) -- Options investors are sending a clear signal that they see a larger-than-average move in Netflix Inc.'s shares following its earnings report. The direction? Well, that's a bit cloudier.
The streaming-media service provider is set to report third-quarter results after Tuesday's close. Options prices imply an 11 percent change in the share price the day after the report. Over the last eight quarters Netflix shares have moved 8.1 percent on average, with rallies outnumbering sell-offs by 5-to-3.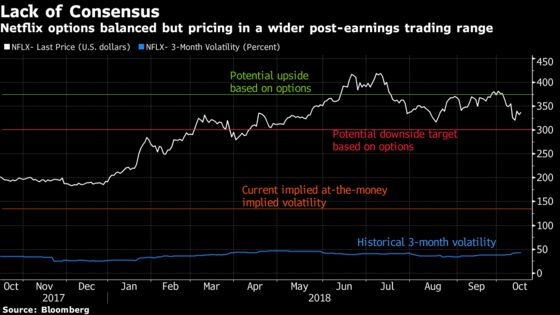 About 28 percent of total open interest is scheduled to expire on Friday with the biggest bets split fairly evenly between the $340 strike calls and puts, signaling that investors are divided on what the earnings report will deliver. Current implied volatility is close to 131, versus a three-month historical average of around 43, placing it in the 88th percentile over the last year.
Netflix shares rose as much as 1.8 percent ahead of the earnings report, leaving them up more than 75 percent in 2018. Some investors may be using options to protect the year-to-date gains for the world's largest paid online TV service, while others may be looking for a rally, considering that stock has fallen almost 20 percent since late June.