Nasdaq Jumps Toward Record and Faangs Gain
(Bloomberg) -- Tech traders who spent the last few days worrying about what Netflix Inc.'s earnings would hold should've been thinking about something else: Jay Powell's congressional testimony.
After starting the day in the red after Netflix bombed on subscriber growth, the Nasdaq Composite Index rebounded before noon and closed at a record, along with Amazon.com Inc., Facebook Inc. and Google parent Alphabet Inc. The index's jump coincided with Federal Reserve chairman Powell's comments suggesting the pace of interest rate increases could be slowed down if needed.
"'Confidence' is essential for high-flying momentum stocks," said Matt Maley, equity strategist at Miller Tabak. "Powell's testimony was not as hawkish as his past public statements have been, so that's helping things."
Testifying on Tuesday before the Senate Banking Committee, Powell said the Fed will continue to gradually raise interest rates "for now." That pushed investors to see the early weakness in tech, the sector that's expected to post the third-highest pace of earnings growth among industry peers, as a buying opportunity.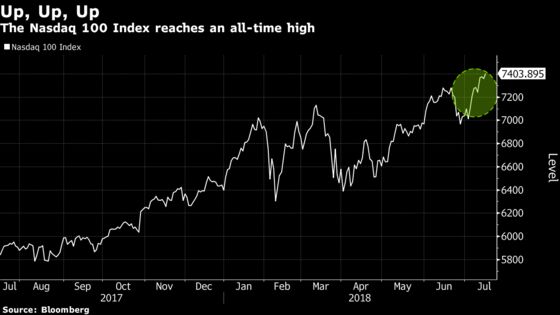 Earnings expectations for technology stocks that have rallied 50 percent since early last year are especially high. The group's 31 percent expected growth rate is third highest out of 11 industries, behind energy producers and raw-materials suppliers, and above the growth rate for the S&P 500.
Netflix fell as much as 14 percent on Tuesday before paring losses to close with a loss of 5.2 percent. The Nasdaq 100 Index rose 0.6 percent to close at an all-time high. Microsoft Corp. also closed at a record ahead of its fiscal fourth quarter earnings report on Thursday.
"The crowd who missed out on Netflix's outperformance in the past, which accounted for a large portion of the market gains year-to-date, seemed to step in this morning thanks to another case of FOMO as many chase their benchmarks," said Kurt Ayling, Susquehanna Financial Group analyst. "Up until this morning, it was hard to find an entry point in Netflix," Ayling added, noting that "those underweight FANG, likely took advantage of a rare 'buy the dip' opportunity."