Rising Costs Muddy Post-Lockdown Rebounds for Consumer Giants
(Bloomberg) -- The world's biggest makers of coffee, beer, whiskey and yogurt all warned of higher costs, clouding their outlook even as sales bounce back faster than expected from the pandemic.
Rising prices for raw materials ranging from oil and aluminum to corn and the agave used to make tequila are squeezing profit margins for consumer goods producers, who are so far struggling to pass those costs on to shoppers.
"What we've seen this year is some kind of a turning point, where after several years of low inflation, all of a sudden it accelerated very strongly," said Mark Schneider, chief executive officer of Nestle SA.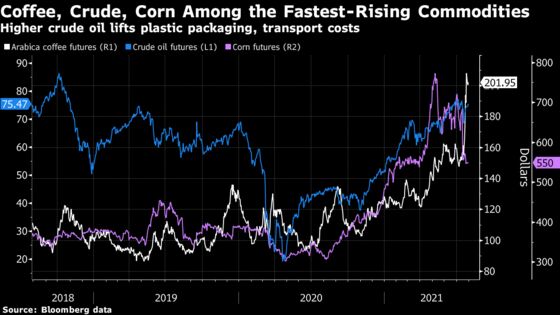 The maker of Nespresso coffee reversed guidance on Thursday for an improvement in profitability, instead forecasting a slight decline this year. The pace of cost growth began heating up in March, Schneider said, adding that the company plans to raise prices for consumers more in the second half.
Budweiser brewer Anheuser-Busch InBev NV, spirits producer Diageo Plc and dairy giant Danone SA also cited rising costs when reporting results, joining the likes of PepsiCo Inc. and Kimberly-Clark Corp.
Shares of Nestle fell as much as 3.4%, before paring losses, while AB InBev dropped as much as 8.1%.
Nestle's Margin Outlook Also Hurt by Cost Inflation: Street Wrap
The world's food and beverage giants have been caught up in the inflation gripping commodity markets even as sales rebound from the pandemic. As vaccinations accelerate and countries around the world ease virus curbs, consumers are returning to offices and eating out at restaurants. That's boosting demand for coffee, beer, bottled water and ice cream, products that had suffered from lockdowns.
Yet Danone highlighted the cloud hanging over that recovery, warning of a broad-based acceleration in inflation in milk, ingredients, packaging and transport costs. Germany's Puma SE cited rising costs for freight, cotton and oil, which it said may feed into higher shoe prices next year.
Diageo Chief Financial Officer Lavanya Chandrashekar said inflationary pressures are twofold. First, the company is contending with higher corn, aluminum and agave prices, and second, with the hike in logistics costs since the start of the pandemic.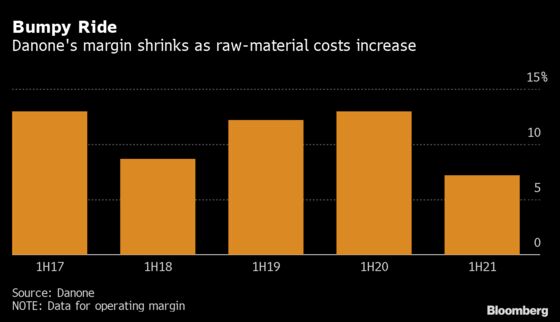 It's offsetting those increases with efficiency measures and revenue growth, and it also raised prices on brands in the U.S. such as Casamigos and Don Julio tequilas and Baileys cream liqueur. Still, the operating margin in North America narrowed in its past fiscal year.
Sudden increases in costs are the hardest for consumer-goods companies to deal with, as they prefer to raise prices gradually, to avoid scaring off shoppers who might reach for a competitor's product.
AB InBev said Thursday it faced higher currency and raw materials costs in important markets such as Mexico, Brazil and Colombia, which weighed on profit even as sales soared past analysts' estimates.
"Aluminium is one that everybody's talking about, but you see some pressure as well in barley, you see a little bit of freight issues because there are some restrictions and bottlenecks in freight, inland and ocean," AB InBev CEO Michel Doukeris said in an interview. The company has hedged itself against such movements to lessen the impact of the volatility, he said.