Negative Yields Are Showing Up in Europe's Junk Bond Market
(Bloomberg) -- The mind-bending phenomenon of negative yields has made its way back to junk bonds.
ArcelorMittal and Kraft Heinz Co. are among the 12 companies with euro-denominated, junk-rated debt that trade at a negative yield, up from two at the start of the year, according to data compiled by Bloomberg. While that's still a small proportion of overall debt, it's a sign of the growing hunger for risky assets in a world of shrinking returns and central bank largesse.
Investors are piling into junk bonds at a record pace this year, with sales exceeding 91 billion euros ($106 billion) so far. That's driven yields lower, and even into negative territory in a few cases. Additionally, the economic reopening is casting some pandemic-battered names in more favorable light.
"We're in a really low yield environment again, and investors are looking to eke out yield where they can," said Henrietta Pacquement, head of investment grade credit Europe at Wells Fargo Asset Management.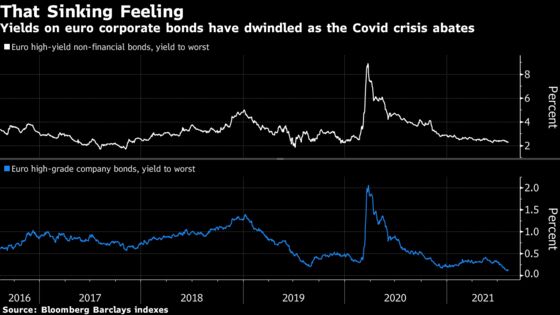 While owning negative-yielding bonds may seem an unviable proposition, it's not entirely without benefits as investors can still earn a positive return if bond prices keep rising.
In fact, a quarter of all global bonds now yield below zero, while only a third of the global fixed income market offers yields in excess of 1%, according to Bank of America Corp. analysts. And the increase in negative-yielding debt is pushing investors to seek out better returns, driving inflows back into high-yield funds.
The negative yields in the European junk-bond market may be driven by technical factors, such as nearby call dates, in some cases. But the rebound from the pandemic is also helping high-yield names in the travel, hospitality and leisure sectors. Hotel group Accor SA's debt has jumped around 6 cents on the euro since November, helped by the prospect of vaccination-fueled tourism.
It's a phenomenon that Barnaby Martin, European credit strategist at BofA doesn't expect to go away anytime soon.
"The volumes are creeping up and will continue to do so as overall yields get dragged further down," he said.
Inter-American Development Bank (IADB) is the only deal in Europe's primary markets Wednesday, and the issuer has opened books on a 100 million-pound ($138.1 million) tap of its existing 0.5% 9/2026 notes in the area of gilts plus 27 basis points.
Elsewhere, Heathrow Airport won creditor backing for a second change in bond terms that would allow it to avoid default
A positive crop of seasonal earnings is boosting sentiment:

ABN Amro swung to a second quarter profit and pledged to pay a dividend later this year after freeing up funds it had set aside for doubtful loans
German energy giant EON raised its full-year outlook after cooler weather boosted gas demand, while Thyssenkrupp's adjusted earnings before interest and taxes swung to 266 million euros for the quarter ended in June from a 693 million-euro loss a year ago amid rising prices for steel and other metals

Meanwhile, companies have returned in force to global loan markets to line up funding for acquisitions after the pandemic forced them to delay their expansion plans last year
Spreads on investment-grade Asian dollar bonds are on track to tighten for a seventh consecutive session on Wednesday, the longest such stretch since June. The yield premiums fell 2-5 basis points in the morning, according to traders.
At least three issuers from the region were looking to price dollar notes on Wednesday, including a green offering from India's Azure Power Energy Ltd.
Chinese high-yield dollar notes climbed as much as 1 cent on the dollar Wednesday morning, according to credit traders, amid some improved sentiment on China Evergrande Group
Southeast Asian dollar junk credit market has outperformed investment grade bonds recently on renewed risk appetite as investors bet the worst of the virus resurgence in the region may be over
The U.S. is also in focus, following breakthrough approval for a $550 billion dollar infrastructure spending plan and ahead of a key inflation report later today.
Primary markets were busy Tuesday, especially in high-yield, where borrowers may be rushing to sell debt before conditions slip further after yields have risen for five straight weeks.
Smart home product maker Resideo Technologies sold a $300 million junk bond Tuesday that will refinance notes coming due in 2026
It was joined by health-care company ModivCare, which priced a $400 million bond to back an acquisition
Eldorado Gold is marketing a $500 million to help fund the redemption of second-lien notes and held an investor call Tuesday before expecting to price the deal Wednesday