Ned Davis Cuts U.S. Stocks Again as Global Bear Market Deepens
(Bloomberg) -- For the second time this month, Ned Davis Research urged investors to reduce holdings in U.S. stocks, saying the global bear market is worsening.
Tim Hayes, the firm's chief global investment strategist, advised investors to trim their exposure to 55 percent from 59 percent. The reduction, which followed a cut earlier this month from 64 percent, effectively lowered the rating on U.S. stocks to market weight from overweight.
The move underscores a growing consensus that the U.S. is not immune to the market turmoil that has swept through Europe and Asia this year. Stocks in China and Greece have lost more than 30 percent from their peaks, while eight more countries are mired in bear market declines of at least 20 percent, Hayes points out. The S&P 500 on Friday extended losses from its September high to as much as 10 percent, putting it at the brink of joining 30 other major markets to fall into corrections.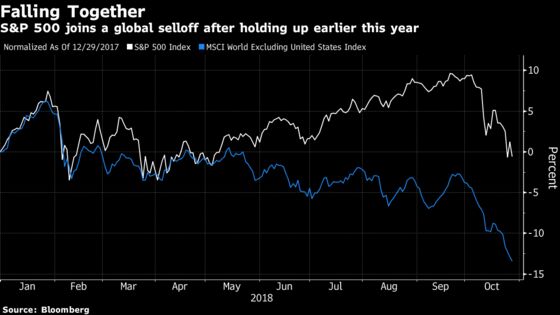 "We're in the midst of a global bear market with increased downside participation from the overvalued U.S. market and technology sector that helped the U.S. outperform," Hayes wrote in a note late Thursday. "Bear markets tend to lack safe havens among regions."
The S&P 500 had beaten the rest of world this year through September before succumbing amid growing concerns over an earning slowdown and higher interest rates. Down about 9 percent in October, the index is heading for its biggest monthly drop since February 2009.
As losses spiraled, no countries will be spared as history suggests there is no consistent tendency for any market to offer safety, said Hayes, who advised investors to hold money in regions according to their representation in benchmarks. He upgraded U.K. stocks to market weight from underweight.
"Conditions are likely to get far worse before they get better," he said. "Our current advice is to use rallying to get more defensive, with a sustainable global recovery unlikely before 2019."