NatWest Charged Over Cash Deposits Linked to Gold Dealer
(Bloomberg) -- NatWest Group Plc faces landmark money laundering charges for failing to properly monitor a company's account that received cash deposits totaling 264 million pounds ($365 million).
The bank failed to conduct proper due diligence and oversight of the company's account over a five-year period through 2016, the U.K. Financial Conduct Authority said. The charges relate to NatWest's relationship with Fowler Oldfield Ltd., a Bradford, England-based gold dealer, according to a court summary.
NatWest -- once one of the world's largest banks -- has been transformed into a largely domestic retail bank following a string of scandals. The legal proceedings could hinder Chief Executive Officer Alison Rose efforts to revamp the lender after she took over in 2019. Rose has started a radical restructuring of some businesses including the market unit and the Irish operations while steering the bank through the pandemic.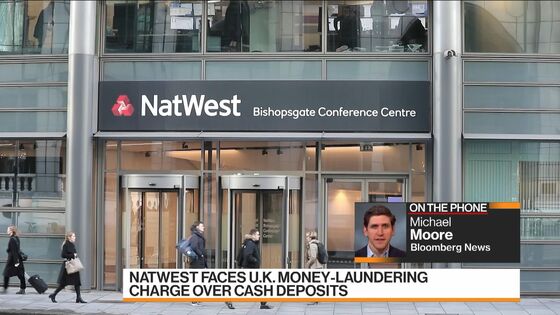 NatWest said in a statement Tuesday it "takes extremely seriously its responsibility to seek to prevent money laundering by third parties," and "has been cooperating with the FCA's investigation."
The charges could lead to an unlimited fine, the FCA said. The bank, which was notified of an investigation in 2017, hasn't taken a provision against a possible financial penalty. NatWest has said the probe was related to "certain money service businesses and related parties."
Fowler Oldfield went into liquidation in 2016 following a series of police investigations. A number for the firm was out of service and liquidators at KPMG didn't immediately comment.
Including the physical cash, the total amount deposited with NatWest was 365 million pounds, the regulator said.
NatWest will appear in a London court on April 14. The bank's shares fell as much as 3% in London. They were down 1.3% at 1:00 p.m. London time.
Rose, who formerly led NatWest's commercial banking unit, told a virtual conference that she was "disappointed" by the charges.
"We have invested very significantly in systems and controls to prevent money laundering," she said. "We have over 4,000 people across the bank whose job is dedicated to detecting and preventing financial crime and we invested very significantly."
The FCA said no individuals were being charged in the case. But the regulator said the case is its first criminal prosecution under 2007 money laundering rules and the first prosecution against a bank.
The news of a prosecution of a well-known bank "will cause shock waves across the financial community," said Claire Cross, a financial crime lawyer at Corker Binning.
"It also sets an important precedent -- no one is too big to escape the FCA's criminal net," Cross said.
NatWest is still part-owned by the government after one of the costliest bailouts of the financial crisis over a decade ago. Bank Chairman Howard Davies, who once led the FCA's predecessor, has said that the anti-money laundering system in Europe needed improvement.