Nasdaq Is on the Brink of a Bear Market
(Bloomberg) -- Spiraling losses in tech shares have pushed the Nasdaq Composite Index to the precipice of becoming the first major U.S. stock gauge to enter a bear market since 2009.
Dragged down by its extra-heavy weighting in technology giants like Apple Inc. and Amazon.com, the benchmark fell for the fifth time in six days, briefly sliding 20 percent below its intraday record from August. Down 1.6 percent to 6,530 as of 12 p.m. in New York, it's 19.3 percent below its record close. The Nasdaq narrowly averted bear-market declines in 2011 and 2016.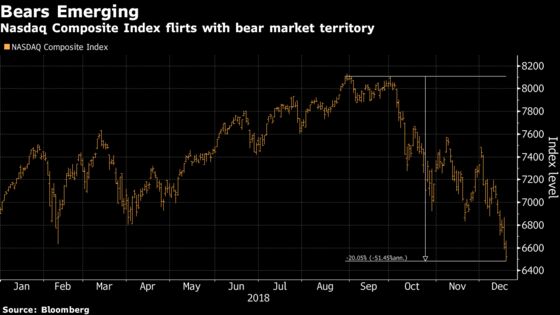 "I always warn people that it's important to pay attention to technicals even if they don't believe in them, because there are other people who do," said Randy Frederick, vice president of trading and derivatives at Charles Schwab. "It won't be substantial enough to push the S&P 500 into a bear market today, but it wouldn't surprise me to see the S&P go down into a bear at some point."
The fall has been swift for an index that as of Aug. 29 was up 539 percent from the March 2009 bottom of the financial crisis. Now, it's mired in its worst December decline ever. Besides Apple and Amazon, which are both down almost 30 percent, the biggest drags since the top are Facebook Inc., down 25 percent; Nvidia, down 52 percent, and Alphabet, down 20 percent.
The relative speed of the Nasdaq's descent is partly a function of how fast it rose. From its last significant bottom, the correction low of Feb. 11, 2016, the tech-heavy gauge remains up 53 percent. The S&P 500, currently down almost 16 percent from its September record, is up 35 percent over that period.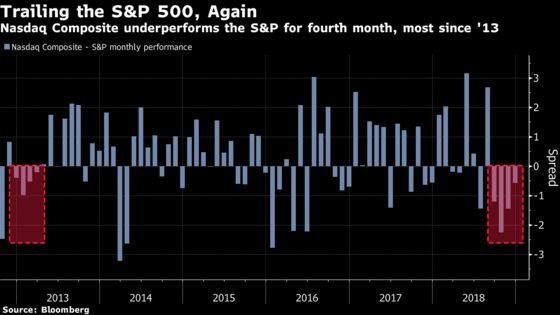 "The dominoes are falling. Some of the bubbles have been popped," Michael Ball, president and lead portfolio manager of Denver-based Weatherstone Capital Management Inc., said by phone. "The market is acting like we're moving to a phase of a synchronized global bear market," he said. "We're like a small boat going through big waves."
To be sure, the vast majority of Nasdaq constituents remain higher over the bull market and almost any other interval since 2009. Many of the gains are breathtaking, including Netflix's 47-fold rally since March 9, 2009, a 31-fold climb in Align Technology, and Amazon's 24-fold advance.
Today's leg down featured a handful of recent notables reaching record lows, among them GoPro Inc., falling 6.6 percent to $4.28, and Snap Inc. losing 7.7 percent to $4.99. Both touched record lows and are down more than 40 percent in 2018. Among the FAANG group, Netflix is up 33 percent on the year and Amazon is up 23 percent, while Facebook is down 25 percent. Apple is down 5.7 percent and Alphabet is down 3 percent.
The speed of the retreat also reflects valuations. The Nasdaq 100 Index was priced at almost 28 times earnings as recently as March, compared with 23.3 times for the S&P 500. Both those ratios have fallen precipitously: to 20.4 for the Nasdaq and 16.9 for the S&P.
"A lot of companies in the Nasdaq have a good long-term story -- but in a higher interest rate environment, it makes sense that they'd be hit harder," Cliff Hodge, director of investments at Cornerstone Wealth, said in an interview. "With the discount rate at zero, it assumes growth to infinity. When the discount rate goes above zero, there's a massive repricing. Lower cash flow generating stocks are the ones that are really getting pounded."