Nasdaq Plunges Most Since 2011, Enters Correction
(Bloomberg) -- The Nasdaq Composite Index plunged 4.4 percent for its biggest single-day slide since August 2011. The tech-heavy measure is now down 12 percent from an August record, meeting the accepted definition of a correction.
The measure's biggest components -- Apple, Amazon.com, Microsoft and Alphabet, which account for almost a quarter of the index by weighting -- have dragged it lower as investors grow increasingly concerned that outsize profit gains won't be sustainable. Texas Instruments plunged the most since January after its earnings disappointed, adding to woes in the beaten-down semiconductor sector.
"Looks like we're seeing a continued rotation from growth to value and a move into defensive stocks in general," said Chris Zaccarelli, chief investment officer at Independent Advisor Alliance. "Tech is out and utilities are in. There's a lot of fear out there."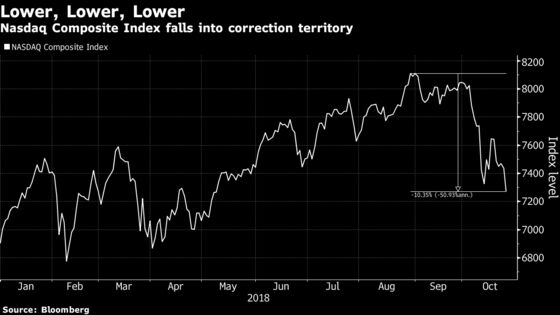 Defensive sectors including utilities, real estate, and consumer staples were the only ones that gained Wednesday. Amazon.com fell 5.9 percent, Apple was down 3.4 percent, and Netflix fell 9.4 percent.
"Tech has been special for the last several years, the problem is tech has quietly stopped leading at the pace it was since the spring or summer," said Jim Paulsen, chief investment strategist at Leuthold Weeden. "It has increasingly lost more of that leadership and momentum itself. Growth has lost its leadership."
Both Amazon.com and Google's parent company Alphabet are set to report earnings Thursday in what's sure to be a high stakes event. Netflix initially jumped near 10 percent last Wednesday after a better-than-expected forecast for subscriber additions, only for those gains to be wiped out shortly thereafter.
Technology companies aren't alone to blame for the losses. Since the high in late August, the Nasdaq Bank Index has fallen the most of the eight Nasdaq subgroups. With eight of the members falling 30 percent or more since then as banks report earnings, the 341-member gauge has tumbled 16 percent.