A $211 Million Trade Shows Emerging-Market Appeal as Risks Grow
(Bloomberg) -- One investor just placed a huge bet on emerging markets at a time when some of the largest banks are signaling threats to this year's rally.
A trade of about $211 million, or 5 million shares, of the Vanguard FTSE Emerging Markets ETF was recorded at 11:45 a.m. in New York on Tuesday, according to data compiled by Bloomberg. That's the largest trade for the exchange-traded fund in 2019, and another $51 million of shares crossed the tape just hours later.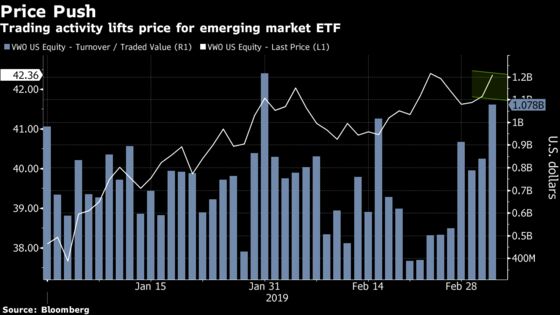 The purchase comes amid bank warnings that a China growth slowdown, a stronger dollar and uncertain trade talks could upend the best start to a year for emerging-market equities since 2012. On Wednesday, the U.S. reported its trade deficit widened last year to a 10-year high, bucking Donald Trump's pledges to reduce it and casting a pall over developing nations where the president says he's "intent to terminate" trade benefits.
One of JPMorgan Asset Management's biggest mutual funds reduced its stock exposure last month, while Goldman Sachs Group Inc. advised clients to be selective. UBS Wealth Management said it took profits on some of its developing-world wagers in late January.
"I guess someone is buying the dip," said Whitney Baker, the founder of New York-based Totem Macro, which advises funds holding more than $3 trillion in assets. "Our conviction in the broad theme of EM outperformance at the end of the developed-market cycle hasn't changed."
Other investors seem convinced. BlackRock Inc.'s iShares MSCI Emerging Markets ETF also saw two large trades on Tuesday worth about $150 million in total, data compiled by Bloomberg show.
Money could be coming into emerging markets and other global assets from short-dated U.S. bond funds, according to Mohit Bajaj, director of ETFs at WallachBeth Capital. More than $344 million worth of shares in a Vanguard Short-Term Treasury ETF traded at 10:27 a.m. in New York, while another $210 million of the PIMCO Enhanced Short Maturity Active ETF traded shortly after.
"Because of the prints being back-to-back in correlated instruments, it looks like one investor may be moving money out of cash-parking investments like bond funds and into international ETFs," Bajaj said.