Myanmar Coup Risks Making Nation 'Uninvestible' Some Funds Warn
(Bloomberg) -- The coup in Myanmar coupled with the country's stalled financial-market opening means global funds have little choice but to avoid the nation, money managers say.
The army's seizure of power last week has led to street protests and condemnation from governments around the world, discouraging overseas investors who are increasingly basing their decisions on environmental, social and governance standards. At the same time, plans to establish a market for corporate bonds and an additional listing option for companies have been on hold since the onset of the coronavirus.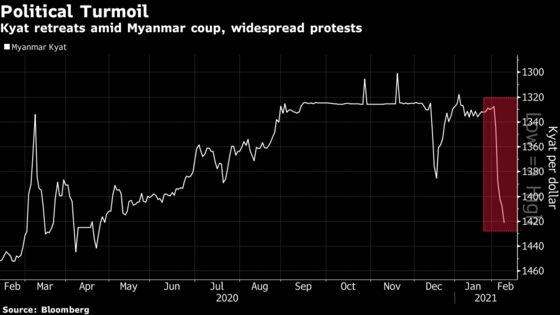 "Myanmar has practically become uninvestible for foreign investors since international funds are increasingly complying to ESG investing criteria," said Alan Richardson, a senior fund manager at Samsung Asset Management in Hong Kong.
"Myanmar's financial-market opening has stalled in the past three years since Aung San Suu Kyi's international reputation was tarnished with the government's treatment of the Rohingya people," he said. "You now have the double whammy from the clampdown on democratic government."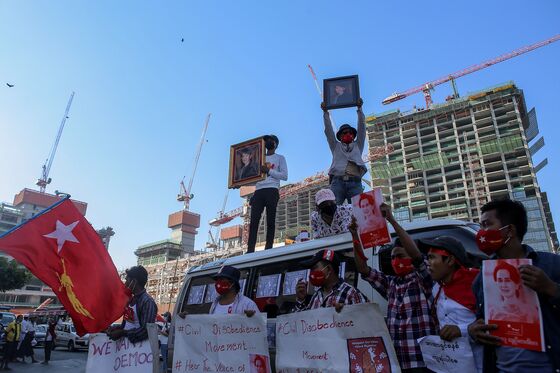 U.S. President Joe Biden said Wednesday his administration will sanction military leaders in Myanmar and prevent the country's military leadership from accessing government funds held in the U.S., which amount to about $1 billion.
The latest outbreak of political turmoil in the nation is dealing a further blow to the government's plans to develop the country's financial markets. Optimism was stirred from 2019 when the authorities announced they were planning a raft of measures to allow greater foreign participation. The process was derailed last year due to the outbreak of Covid-19.
The stock exchange's plan to introduce a new listing board may be further delayed as the authorities would need to secure approvals again after a change in ministers, Htay Chun, a commissioner at the Securities and Exchange Commission of Myanmar, told Bloomberg this week. The launch of the corporate-bond trading platform will be postponed without a deadline after a previous delay pushed it back to the first half of this year, he said.
The benchmark Myanmar Stock Price Index is down about 5% since the military seized power on Feb. 1, while the kyat has slumped about 5.6% against the dollar during the same period. The currency was little changed Thursday.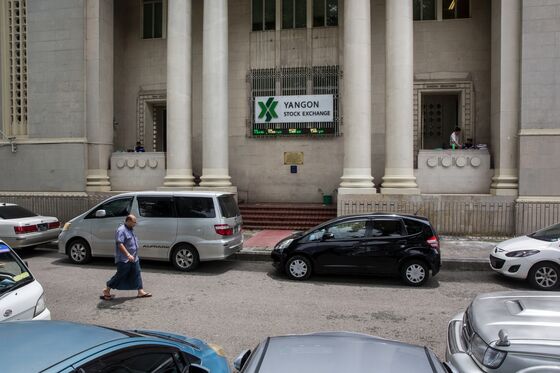 While admitting the current turmoil is a deterrent, some investors say there may be a silver lining.
"The long-term attractiveness of the market is there," said Joshua Crabb, a money manager at Robeco in Hong Kong. "More politically stable markets like Vietnam will be more attractive until there is more certainty. That being said, near-term instability if it is rectified may create a good opportunity to buy the market at a discount."
There are plenty of precedents for markets being able to bounce back from episodes of political turbulence.
Thailand's SET Index has rallied more than 25% from its low in October when the military imposed a state of emergency, even though there are still sporadic anti-government demonstrations. Similarly, a contested suspension of parliament in Malaysia hasn't prevented the ringgit from outperforming all its Asian peers apart from China's yuan over the past three months.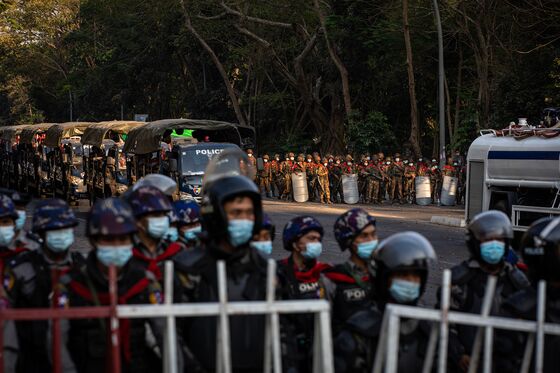 Back on the negative side, another factor is also deterring global funds from entering Myanmar: the lack of a sovereign bond rating.
Regardless of the current political climate, the establishment of a corporate-bond trading platform won't necessarily attract foreign investors until sovereign ratings are in place, according to Todd Schubert, head of fixed-income research at Bank of Singapore.
"Investors would want to see a sovereign rating as it is a baseline upon which other capital market instruments are priced," Schubert said.