SGX Plunges Most in 17 Years as MSCI Signs Pact with Hong Kong
Shares in Singapore Exchange Ltd. plunged after MSCI Inc. announced it will move licensing for derivatives products on a host of gauges to Hong Kong from Singapore.
SGX's stock fell 12%, the most since 2003, amid concerns over the loss of revenue. MSCI has struck an accord with a Hong Kong Exchanges & Clearing Ltd. unit to sell 37 futures and options contracts based on its Asian and emerging-market measures, according to a statement issued by the index provider. It will stop licensing indexes for most derivatives products with SGX early next year after the present agreement expires, the bourse said in a separate statement.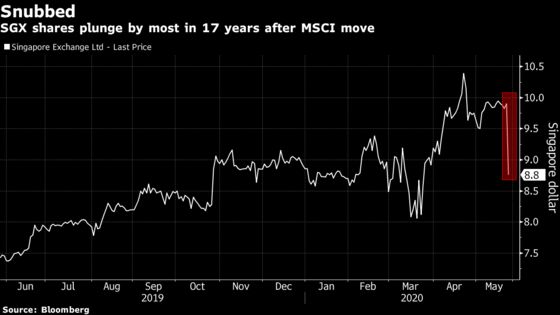 "What we saw in HKEX was a larger customer base, particularly the access to Chinese institutional and retail investors," Henry Fernandez, MSCI's chief executive officer, said on a conference call Wednesday. "We also saw the ability to have a large market for index options that HKEx has developed."
The move deals a blow to SGX, which considers the Hong Kong bourse one of its main rivals and has been suffering from a slowdown in listings. The shift comes as a boost for the Hong Kong exchange as the city's financial-hub status faces challenges, with investors spooked by a Beijing plan to impose security legislation in the city and a resurgence of pro-democracy protests.
The MSCI agreement is "absolutely a vote of confidence," Hong Kong stock exchange Chief Executive Officer Charles Li said in a telephone interview Wednesday. The accord, subject to regulatory approvals, follows a Hong Kong bourse announcement last year about the launch of futures contracts on the MSCI China A Index.
The latest deal "will definitely help bolster Hong Kong's appeal as a financial hub in the medium term," said Joel Ng, an analyst at KGI Securities (Singapore) Pte.
The potential boost to derivative trading volumes will increase HKEX's revenues and help the exchange operator diversify away from its main cash equities business, according to Elizabeth Kwik, an investment manager at Aberdeen Standard Investments.
Meanwhile, only futures and options on the MSCI Singapore Index will be carried by Singapore Exchange from February 2021, the bourse said. The trading venue is working with the "relevant stakeholders in managing their open interest," SGX CEO Loh Boon Chye said in the statement. Sales of products in other asset classes may help cover lost revenue, he added.
SGX profits may potentially be hit by 10% to 15% due to the reduction of the MSCI agreement, according to KGI's Ng.
Also read: SGX to Lose 5-6% Revenue When HKEX Takes MSCI Products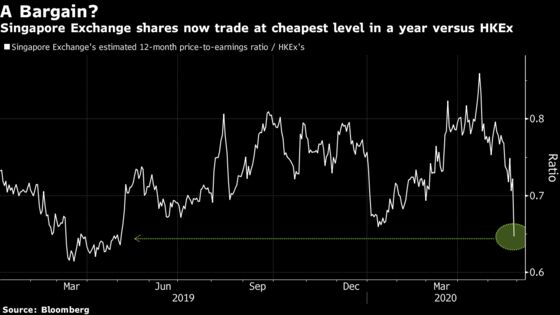 The Singapore exchange currently supports trading of equity derivatives based on MSCI gauges for Australia, China, India, Indonesia and Taiwan, among others. Separately, it has an agreement with FTSE International Ltd. for the sale of China A50 Index futures.
"For now, FTSE China A50 and Nikkei futures are the two most actively traded index derivatives on SGX," Ng said. "A key risk in the medium to long term is the ability to retain these products."
Equity-derivatives sales for Singapore Exchange grew 24% to S$106 million ($75 million) in the quarter through March, accounting for 36% of total revenue, helped by a surge in volatility triggered by the coronavirus outbreak.
SGX plans "other services like single-stock futures on companies in Singapore, which will sort of cushion any loss they face due to the letting go of some MSCI indexes," Ng said.