Mozambique Proposes New Eurobond in Debt-Restructuring Offer
(Bloomberg) -- Mozambique has finally struck a restructuring deal with Eurobond holders, almost two years after defaulting.
The southern African nation has agreed in principle with holders of 60 percent of its bonds, including New York-based hedge fund Greylock Capital Management LLC, a deal that will see them swap into a new $900 million Eurobond maturing in 2033 and another instrument linked to future gas revenues, the Ministry of Finance said in a statement Tuesday.
This "looks like an important first step out of its long-running debt saga," said William Jackson, chief emerging-market economist at Capital Economics Ltd. in London. "Markets have welcomed the development."
The government's sole Eurobond, a $727 million security maturing in 2023, rose around 3 cents to 88.9 cents on the dollar by 12:00 p.m. in London, the highest level in more than two years, which equates to a yield of around 15.2 percent.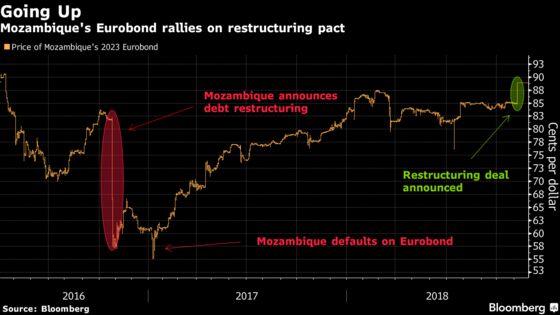 The ministry reached an agreement with four members of the so-called Global Group of Mozambique Bondholders: Greylock, Farallon Capital Europe, Mangart Capital Advisors, Pharo Management
The deal is conditional on parliamentary approval and the parties finalizing the "detailed terms"
The Finance Ministry expects to start an exchange offer early next year
Both new instruments will be senior unsecured obligations of the government
The Eurobond will have a 5.875 percent coupon; through 2023, 4 percent will be paid in cash and the rest will be "payable via capitalization"

The notes will amortize from September 2029 via five equal payments
The $900 million includes the outstanding principal and unpaid interest as of September this year

The government will pay 5 percent of its revenue from two offshore gas natural projects -- Area 1, being developed by Anadarko Petroleum Corp., and Eni SpA's Area 4 -- into a so-called "value recovery instrument" until 2033

There will be a payment cap of $500 million
The "precise payment dates and mechanism for calculating and verifying payment amounts to be determined in definitive documentation"
The ministry made no mention of the more than $1 billion of loans for state companies Mozambique Asset Management and ProIndicus that the government also wants to restructure. Both companies' loans have state guarantees. The government wanted to deal with all debt holders together, but the Eurobond holders argued they should get preferential treatment because the legality of the guarantees was questionable.
One of the world's poorest nations, Mozambique came unstuck in 2016 when the International Monetary Fund and other donors suspended financing programs after they found out about the state-guaranteed loans, which the government had kept secret. It was also hit by lower revenue from coal and aluminum exports.
Mozambique still faces several obstacles to getting out of its financial crisis, according to Jackson of Capital Economics. Holders of three-quarters of the Eurobonds by value will probably need to agree to the restructuring proposal for it to go ahead and even if it does, the government will need to tighten spending further, he said.
"The deal would only make a relatively small dent in Mozambique's overall fiscal problem," he said. "The debt burden is only likely to improve significantly with either significant fiscal tightening or a re-profiling of multilateral and bilateral lending."