Vale May Offer Clues on What Direction Iron Ore Markets Are Heading
(Bloomberg) -- With iron ore trading at its most erratic in at least a decade, investors will be turning to Brazilian producer Vale SA for some much-needed direction.
The world's second-largest producer of the steel raw material is about to report third-quarter production. The Rio de Janeiro-based supplier is a major swing factor in the iron ore market as it continues a slow recovery from an early-2019 tailings dam disaster.
Analysts expect Vale to report 87.3 million metric tons on average, well up on the previous quarter but just below the year-ago period. A sizable beat could pour cold water on a nascent price recovery while a miss could give it more legs. BHP Group said Tuesday that output dropped during the three months through September amid planned maintenance and labor shortages.
Vale is likely to report a gap between production and sales, according to analysts, with slowing demand and shipping disruptions prompting the company to withhold more of its lowest value ores.
The market is crying out for some direction. After surging above $200 a ton in May, iron ore lost more than half its value amid Chinese curbs on steel output, concerns over a property crackdown and power shortages, before getting back above $100. Volatility is near the highest in records dating back to 2011. Vale's report becomes more intriguing after top producer Rio Tinto Group lowered its guidance for shipments, citing Western Australian labor shortages.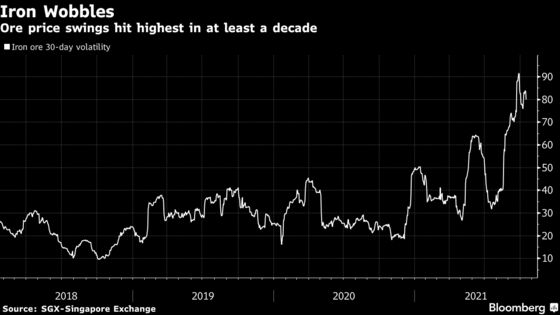 Bloomberg Intelligence's baseline scenario shows a structurally oversupplied iron ore market by late 2022, with surpluses through 2024. The return of tonnage from Vale, which ships high-quality ore, is expected to account for the bulk of supply growth. 
In September, Vale cut its forecast for 2022 production capacity to 370 million tons from a previous 400 million-ton goal because of sluggish permitting in its prized operations in northern Brazil. While capacity isn't the same as actual production, the slower-than-expected expansion will give Vale less scope to increase supply over the coming years.
The Brazilian mining giant has 2021 production guidance of 315 million to 335 million tons, with BI analysts assuming it reaches the low end of that range.
Vale is scheduled to disclose quarterly production and sales after the close of trading Tuesday, with earnings to be released Oct. 28.