Most European Bank Stocks Recover. Societe Generale Misses the Boat
(Bloomberg) -- After a dismal fourth quarter, most major European lenders are enjoying a share price revival this year, even Deutsche Bank. Not Societe Generale SA: Its shares hit the lowest level since 2013 last week, dragged by mounting concerns over the bank's capital and profit outlook.
Shares in France's third-largest bank by market capitalization have halved since a peak reached last May, making it the second-worst performer on the Stoxx 600 Banks Index, after U.K. minnow Metro Bank Plc. Its direct competitor at home, BNP Paribas SA, has risen in line with the sector benchmark, which gained 6.8 percent.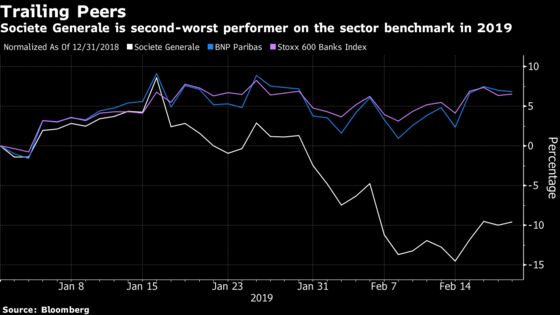 So what's causing investors' unease about Societe Generale?
The lender's capital ratio fell to 11.2 percent in the fourth quarter from 11.4 percent a year earlier, making it the second-lowest among Europe's largest banks that have reported year-end numbers.
The ratio -- a measure of a company's ability to withstand losses in periods of turmoil -- is still far from the bank's 12 percent target for 2020. Societe Generale has said cost savings and further asset sales will help it lift the ratio.
"Investors are penalizing banks with lower capital ratios and it seems like they don't believe Societe Generale will be able to generate capital as fast as needed," Bestinver Gestion fund manager Ricardo Canete said by phone. "We do believe they will generate capital organically and, although the bank has some issues, the market is being too negative on the stock."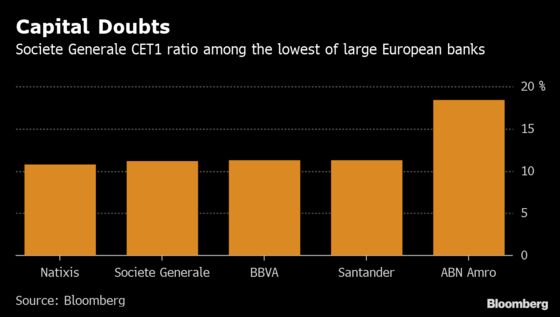 The Spanish asset manager acquired shares in Societe Generale in the last quarter of 2018, and said it sees the French bank trading at a book value of 0.7, above the 0.4 value where it trades now.
Societe Generale surprised investors last month with a change to its policy, introducing a scrip dividend for 2018 that allows shareholders to choose between stocks or cash.
The bank said the move was taken to help maintain its capital ratio, and that it doesn't plan to extend the option in future. KBW analyst Jean-Pierre Lambert downgraded the stock to underperform from market perform earlier this month, saying the bank will be forced to use the option again for 2019 and 2020 dividends.
"In 2018, Societe Generale's earnings went from more to less, and while at BNP Paribas a turning point in French retail weakness was seen, that's not the case for Societe Generale," Banco Sabadell analyst Maria Paz Ojeda said. "Doubts over its revenue and cost targets remain."
The bank cut its profitability target and now sees an adjusted return on tangible equity in the range of 9 percent to 10 percent for 2020, versus 11.5 percent previously. The new target is still more optimistic than consensus estimates of 8 percent. "Investors will need convincing about the plan and the capacity for execution/delivery," Lambert said. He noted the three main divisions are each undergoing some form of restructuring, which will likely "lead to further earnings disappointment going forward."
The time has arrived for Societe Generale to deliver on capital plans and pledges for cost cuts.
Societe Generale's underperformance needs to stop, and while its targets are now more realistic, this won't be sufficient to regain lost ground, Bloomberg Intelligence analyst Jonathan Tyce said.
"Capital pressures have grown, French retail remains horrible and trading is a problem," he said. Delivering on promises over several quarters "is the only realistic path to redemption."
Valuation is cheap but "concerns about sustainability will keep the shares at a steep sector discount," Credit Suisse analyst Jon Peace said earlier this month, cutting the bank's price target to 27 euros from 30 euros and reducing earnings-per-share estimates.