Most Crowded Trade on Wall Street Is No Longer Going Long FAANGs
(Bloomberg) -- For the first time in almost a year, a strategy of going long the biggest U.S. and China tech stocks isn't the most crowded trade cited in a Bank of America survey.
"Long FAANG+BAT" -- or buying shares of Facebook, Amazon, Apple, Netflix, Alphabet, Baidu, Alibaba, and Tencent -- was cited by 20 percent of participants as the most crowded trade. It has been replaced by a long U.S. dollar trade, which was noted by a quarter of the fund managers.
The ML FANG index soared almost 40 percent from January to September, outperforming benchmark indices. That rally has since faltered, and the index -- composed of the core FANG members -- has dropped more than 21 percent.
The Chinese tech counterparts have fared much worse, with all three members of the BAT cohort falling double digits on the year. American depositary receipts for Baidu and Tencent are both down nearly 30 percent in 2018.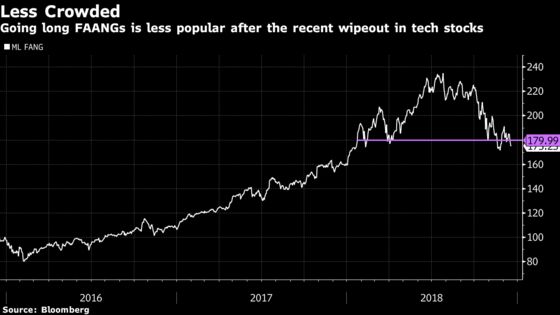 The third most-crowded trade is going short emerging markets, cited by less than one-fifth of the participants in December's survey.
The monthly poll noted that investors have approached "extreme bearishness" on the market, with money managers boosting their allocation to bonds by 23 percentage points, the biggest ever one-month rotation.