Gold Trading in Moscow Gets a Boost After London Tie-Up
(Bloomberg) -- The Moscow Exchange plans to further boost gold trading in the world's No. 2 miner after creating closer ties to the key London market.
The bourse in September started a link so users can trade spot gold at London prices using its own clearing system and with international banks including JPMorgan Chase & Co. and Credit Suisse Group AG providing liquidity. The aim is to make trading easier for participants from miners to retail investors, and the exchange is working on a similar link with Shanghai, possibly for next year.
Russia ranks behind only China for mine output, but its trading volumes are small compared with major centers such as London or New York. The nation's miners typically sell to a few -- mostly state-run -- local lenders for export, or, previously, to the central bank. Still, the Moscow Exchange has tried to develop gold trading in recent years and saw volumes in the first nine months triple from last year's total on more interest from retail clients via brokers.
"We hope for the similar impressive growth in 2022," Igor Marich, managing director for sales and business development at the exchange, said in an interview. "The Russian gold market has long been purely banking. We want it to be a marketplace for everyone."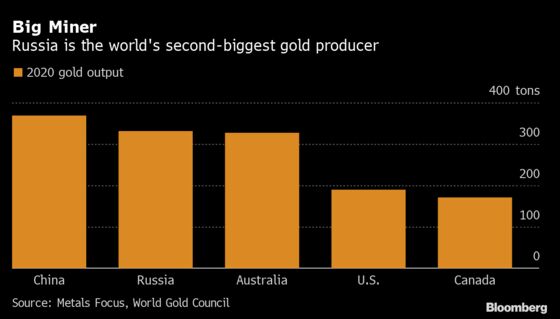 Trading in the first nine months jumped to about 170 billion rubles ($2.4 billion).
The new trading and clearance link with London lets banks, brokers and non-financial companies trade bullion at London prices.
The bourse is working on starting a similar trading link with the Shanghai Gold Exchange possibly next year, though that will require regulatory changes from the Russian side, Marich said.
Clients can also use Moscow-London loco swaps, allowing users switch gold or silver to another location without physically moving it.
Gold has declined about 6% in London this year, and is about 14% below a record set in August 2020 as central banks move closer to tightening monetary policy. 
Trading may increase if Russia cancels value-added tax on retail gold, and the government is working on tracking bullion along the supply chain, which is seen as a condition for canceling the VAT, according to Marich.
"I hope that next year we will see a breakthrough in addressing this very old problem holding back the development of the Russian gold market," he said.