Morgan Stanley Says Sell Rallies as Goldman Sees Chance to Buy
(Bloomberg) -- The stock sell-off this month has been ugly, despite the rally Monday. Whether it's been hideous enough to signal a turnaround is a topic of debate among two of the biggest U.S. banks.
Morgan Stanley is of the opinion that there's further downside left.
"The rolling bear market continues to make progress and there is growing evidence that it is morphing into a proper cyclical bear market," strategist Michael Wilson wrote in a note Monday, affirming a theme he's been discussing for several months. "Rallies should be sold until the liquidity picture improves, valuations compress further or 2019 earnings estimates are reduced."
Goldman Sachs Group Inc., on the other hand, thinks the rout has gone too far.
"The sell-off appears to have overshot the fundamentals," strategists led by David Kostin wrote in a note Friday. "We expect continued positive economic data and prospective EPS growth (+7% in 2019) to support an S&P 500 rebound to our year-end target of 2,850. The resumption of discretionary buybacks should also provide a tailwind."
This divergence of opinion comes after a persistent downtrend that's lopped more than 9 percent off the S&P 500 since its record high Sept. 20 amid concerns global growth is slowing and U.S. corporate earnings are vulnerable. JPMorgan Chase & Co. pointed out on Friday that only about 20 percent of assets have generated positive returns on the year, a lower amount than any time other than the 2008 financial crisis and 1970s stagflation.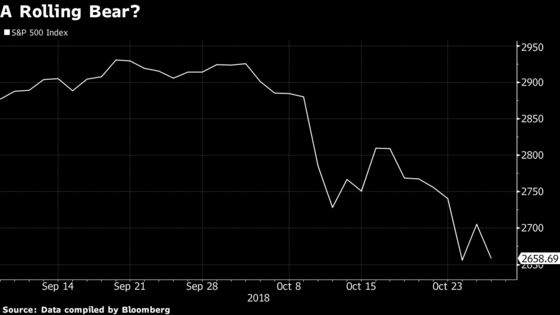 The stock market is selling off in ways that differ from other recent declines and it bodes badly for future performance, Wilson said. For instance, the losses were concentrated in sectors where portfolio managers are most exposed such as technology and consumer discretionary, meaning there's "extreme portfolio pain." Nearly half of stocks in the MSCI U.S. Equity Index have fallen at least 20 percent from their 52-week high, he added, saying momentum suggests that number is likely to increase if things don't stabilize soon.
Wilson also pointed to the S&P 500's break below its 200-day moving average, showing the collapse in market breadth "is more fundamentally driven than most market participants and commentators have acknowledged." He said a pullback in earnings is looking more likely, and that would fit with his bear-case 2018 S&P 500 target of 2,400. He noted, however, that he sees the S&P 500 as in a secular bull market, with this year representing a cyclical bear within that.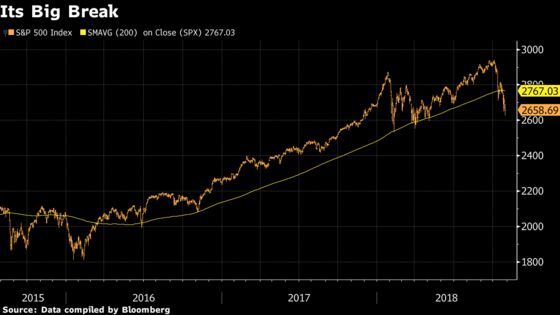 Goldman's Kostin isn't saying everything's rosy -- for instance, he expects U.S. gross domestic product growth to decelerate and says that earnings estimates are too optimistic. But amid the backdrop, he recommends buying "quality stocks" as the cycle matures.
JPMorgan strategists led by John Normand said investors are nervous about liquidity constraints in what they see as the late stages of a bull cycle.
"If complacency is one of the words most associated with the pre-Lehman years," then "paranoia may be the one most tied to what remains of this cycle," the strategists wrote.
But if Morgan Stanley is right, there could still be 10 percent downside from Friday's close of 2,658.69.
"Our 2,400 bear case target should hold throughout this correction," Wilson said. "We think this cyclical bear is taking the course of a consolidation that will keep the S&P 500 in a wide range of 2,400-3,000 for up to two years."