Morgan Stanley's Skelly Still Sees Drop Coming in Stock Prices
(Bloomberg) -- The Federal Reserve is about to announce a faster taper on its way to raising rates, a sure sign that price multiples on stocks will drop as growth slows, says Daniel Skelly, head of market research and strategy at Morgan Stanley Wealth Management.
"There's more room to go on multiple contraction," he said Tuesday in an interview on Bloomberg TV's Surveillance. "Things are somewhat tracking to a normal historical context, which has seen the multiple come down anywhere between 10% to 15% as mid-cycle transitions culminate in the past."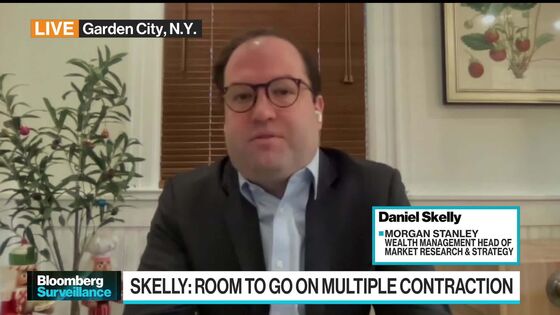 Skelly has kept his forecast for the S&P 500 Index to end 2022 at 4,400, a decline of more than 5% from yesterday's close. "Positioning has already started to move that way; particularly when you look at some of the faster moving institutional funds, positioning has started to lighten up more recently," Skelly said.
In the coming higher rate environment, he favors companies in areas like health care, which is "trading extremely cheap after underperforming this year," particularly those names with "all the benefits of innovation and growth but not priced like many of the growth sectors." He also likes consumer staples. 
That said, he isn't "shying away from growth names" at the right price. "We've added to our team's portfolios recently names like Mastercard, names like T-Mobile," Skelly said. "These are structural growers that are significantly off of their 52-week highs."
To balance the portfolio as volatility increases, "we put some money into alternatives," Skelly said. "We've also put some money into shorter duration credit, high-quality credit."