Morgan Stanley's Kushma Sees Superior Emerging Bond Returns
(Bloomberg) -- Emerging-market bonds should return to winning form next year after a rough 2018 with a couple of caveats -- the trade war doesn't worsen and a pause in Federal Reserve tightening puts a lid on the dollar.
That's the message from Michael Kushma, the chief investment officer for global fixed income at Morgan Stanley Investment Management in New York. Local and foreign-currency notes should generate "above-average returns" in 2019 amid prospects for the dollar to peak and then weaken, he said in an interview in Singapore.
"The good news is that the risk premium in emerging markets has risen a lot this year," Kushma said. "Emerging markets are poised for the next calendar year to generate superior returns out of most sectors of fixed income."
Local bonds of developing economies are set for their worst year since 2015, although they have clawed back some of their losses since mid-September as emerging currencies stabilized and on signs the Fed may slow its rate hikes next year. Kushma sees that recovery continuing and favors them over foreign-currency counterparts, arguing that "carry is still really good and it may be more of an FX story next year in terms of driving returns."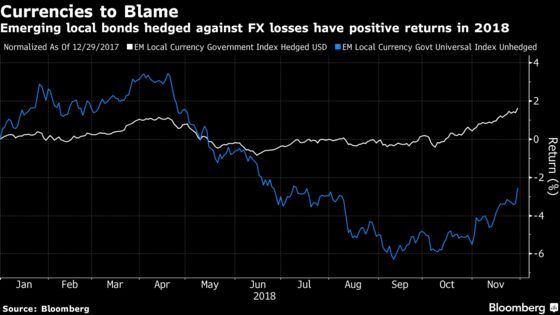 Hans Redeker, global head of foreign-exchange strategy at Morgan Stanley, reckons the dollar peaked against emerging-market currencies in September. He sees high-yielders like the Argentine peso, South African rand and Indonesian rupiah doing well in 2019.
"That's where you have to naturally move back to because you're getting concerned about the U.S. dollar -- for structural reasons as well as what the Fed might do or not do," London-based Redeker said in a separate interview in Singapore. "If you go into EM high-yield, you'll still have income."
Here are some markets where Kushma sees opportunities:
South Africa has a lot of problems in the sense that the dynamics in the current account, growth and inflation are not great, but it has a pretty high-risk premium. "We're positive on the margin for good constructive change"
Indonesia "we kind of like as well." But it still seems to be hostage to external developments, although they're doing mostly the right things, such as raising rates
"Egypt is a country we like. They're trying to disinflate their economy, trying to keep the exchange rate strong. It may depreciate but not as much as the forwards. It's not a high-profile country that is caught up in a lot of geopolitical noise right now"
Risk premiums in Mexico are high enough and the currency is strong enough to withstand further Fed rate hikes. But the country might have to end up raising rates next year as fiscal policy may become expansionary, so the firm is "more neutral" on Mexico at the moment
The incoming government in Brazil seems to have done all the right things in terms of appointing conservative, pro-business, pro-reform financial officials. However, it doesn't have a lot of political strength in Congress, which it will need to pass laws