Morgan Stanley's Kushma Says Bond Yields Climbing Too Quickly
(Bloomberg) -- The recent spike in Treasury yields is likely overdone as global demand for "risk-free" assets remains strong, according to Morgan Stanley Investment Management's Michael Kushma.
"Everyone is worried about tapering from the Fed, but the U.S. fiscal deficit should shrink dramatically next year," Kushma, the firm's chief investment officer for global fixed income, told Bloomberg TV's Surveillance Tuesday. "I don't see a supply-side issue on Treasuries right now. Treasuries are the world's risk-free asset. That's not going away. The level of U.S. yields relative to the rest of the world is also very high, meaning the U.S. is a high-yielding alternative."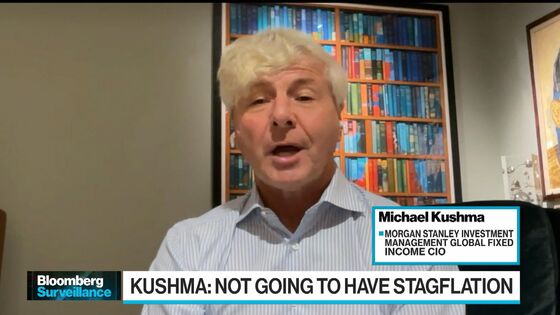 Benchmark 10-year yields hovered near 1.61% on Tuesday. They reached 1.63% last week, the highest since mid-year.
Markets globally are reckoning with an elevated pace of inflation that's testing the Federal Reserve's resolve to keep borrowing costs low until the labor-market recovery progresses further. The allocation to bonds tumbled to the lowest level ever as inflation woes drove expectations for higher rates, according to the latest Bank of America Corp. monthly fund manager survey, conducted in the week through Oct. 14.
For Kushma, most countries are probably "overpredicting" how fast rates are going to rise.
"The cyclical bounce in recovery next year will be strong. From a credit perspective, we'll be fine," Kushma noted. "We will have continued strong labor markets, strong inflationary pressures at the margin." But he said, "there is no doubt that inflation is going to slow over the next 12 months."