As Emerging Markets Rebound, Skeptics Are Getting Harder to Find
(Bloomberg) -- After two weeks of a rally in emerging-market assets, some investors are becoming more positive on the asset class.
Morgan Stanley removed its "bearish call" on the fixed income and currencies of developing countries, Matthews Asia said it is the "best time" to buy emerging markets since the so-called taper tantrum, Tundra Fonder AB is also taking advantage of the selloff while for Eric Robertsen, Standard Chartered's global head of foreign-exchange, rates and credit research, emerging-markets are the cheapest they've been in 10 to 15 years.
Underscoring the increase in investor appetite, the market value of the biggest exchange-traded fund tracking developing-nation Eurobonds climbed to a record last week.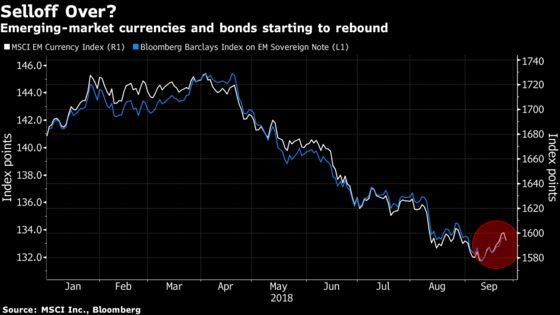 "EM assets rallied strongly last week and we think this marks the beginning of a period of stability and range-bound markets," Morgan Stanley strategists including London-based James Lord wrote in a note dated Monday. "We think this remains a difficult world for EM, but we've likely adjusted enough for now."
Growing policy responses from central banks in emerging economies, including Indonesia, Russia and Turkey have helped ease the selloffs that took both equities and currencies to their lowest in more than a year earlier this month. The MSCI Emerging Markets Currency Index rose for a second week in the five days to Friday, completing its best weekly performance since February. A Bloomberg Barclays index on local-currency government bonds climbed 0.5 percent last week, the most since March.
Morgan Stanley turned neutral on EM local markets and credit. It's increasing exposure to high-yielding currencies including those in Argentina, Indonesia and Russia to "like," and removing "dislike" on Brazil's, according to the note. It raised Mexico rates to "like" and took away "dislike" from those in Argentina, Brazil and Russia
Tundra Fonder, which handles $400 million in assets, made its first ever investment in Turkey and sees opportunities in developing-nation countries including Malaysia and the Philippines, Shamoon Tariq, Stockholm-based vice chief investment officer, said in an interview
Despite "eye-watering" volatility in emerging markets, "you can make the argument that you are getting paid to harvest that volatility," Standard Chartered's Robertsen said at an event in Johannesburg
Markets "have come off quite a bit," Tariq said. "Once in a while you get super cheap stocks and companies, obviously it's worth having a look."
While some are turning less bearish on emerging markets, an escalation in the trade dispute between China and the U.S. that has unfolded over the past couple of days still remains as a risk for many.
With little prospect for the outlook for international trade to improve significantly and an expected slowdown in China, appetite for emerging-market assets will be muted in the coming months, Per Hammarlund, chief emerging-markets strategist at SEB in Stockholm, wrote in a recent note.
But for Morgan Stanley, the move in global markets last week suggests that "high risk premia for trade issues are embedded in EM assets," though the bank expects trade tensions to continue escalating.