Morgan Stanley, Goldman Say Fourth Quarter Stock Rally Is Looking Iffy 
(Bloomberg) -- A trade with a near-perfect record of working is anything but a sure thing in 2018, two big investment banks say.
It's the S&P 500's habit of rising in the fourth quarter, something that has happened during eight of the last nine years. But counting on the calendar to bail U.S. stocks out of their latest October slump may be asking too much, according to strategists at Morgan Stanley and Goldman Sachs.
Too much is in the way, they say. The market is struggling to come to terms with what many see as a new regime of higher bond yields, slowing profit growth, and persistent political tensions at home and abroad.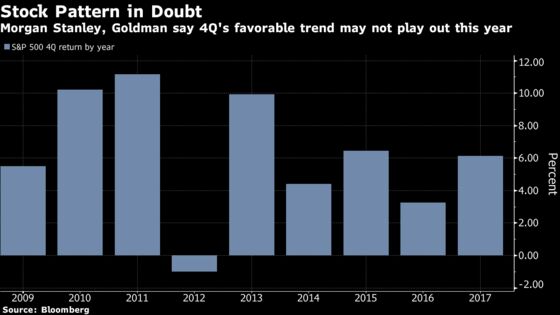 Midterm elections are likely to be a source of volatility, too, as Democrats capture the House, setting the stage for battles over regulations and spending, according to David Kostin at Goldman Sachs.
Mike Wilson at Morgan Stanley urged investors to stay put, calling rallies such as last Tuesday's "a dead cat bounce." Technology and consumer-discretionary stocks, market leaders in the past few years, may need to fall an additional 6 percent to 8 percent before bottoming, he said.
"We don't think the correction is done yet," Wilson wrote in a note to clients Monday. "Recent price declines in crowded growth, tech, and discretionary have caused enough portfolio pain that we think most investors are playing with weak hands."
"We are increasingly thinking a rally into year end will be harder to come by as lower liquidity and concerns on peaking growth weigh on the S&P and an investor base in defense mode," he wrote.
The S&P 500 fell 0.4 percent as of 12:45 p.m. in New York, brushing aside a China-led rally in global equities. Down more than 5 percent since the start of October, the benchmark index is on course for the worst fourth quarter since the 2008 global financial crisis.
Market turnarounds are typical of midterm years, but 2018 hasn't played out like others, making a rebound less likely, according to Goldman Sachs.
At this time of the election cycle, market volatility usually picks up before a midterm vote as policy uncertainty builds. Once the uncertainty is removed post election, stocks stage a rally, with the S&P 500 rising an average 8 percent in the fourth quarter. This time, however, the equity market has stayed calm in recent months before its recent bout of turbulence, even as policy uncertainty has been elevated relative to history.
"This may suggest that markets have become inured to above average political uncertainty and help explain the lack of pre-election volatility," Kostin wrote in a note late Friday. "The extent that the typical 8 percent S&P 500 rally during 4Q of midterm election years – twice the median return of 4 percent in other years – is driven by declining uncertainty, that pattern may be less likely to repeat this year."