Morgan Stanley Calls Dollar Peak Amid `Wrong' Bullish View
(Bloomberg) -- The dollar is going from peak to weak.
That's the forecast from Morgan Stanley strategists, who say the greenback is "topping out" and will face sustained pressure as early as next month.
There are plenty of factors that could drive a selloff, they say. These include comments from President Donald Trump on currencies, weaker U.S. economic survey indicators, Chinese economic measures and potential tweaks to Bank of Japan policy.
"The USD has peaked and is due to reenter its secular downtrend soon," Morgan Stanley strategists including Hans Redeker wrote in a note Thursday. "Markets are linking rising risk aversion with USD strength; we think the consensus is wrong."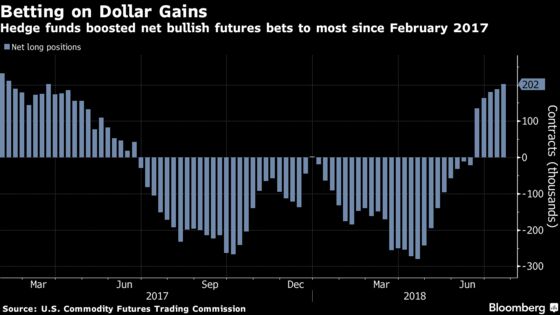 The Bloomberg Dollar Spot Index is down 0.5 percent in July following a three-month rally. This year's gains have caught off guard some investors who had crowded into bearish positions after last year's 8.5 percent slump.
Hedge funds and money managers have now swung the other way: they're the most bullish on the greenback since February 2017, U.S. Commodity Futures Trading Commission data show.
Morgan Stanley recommends going long the euro against the dollar, with an entry point at $1.16, a target of $1.21, and a stop at $1.15. The bank also suggests selling the dollar at 111.40 yen, with a target of 104 yen. The greenback was at $1.1653 per euro and 111.01 yen in early London trading Friday.