More Strategists Say They Have No Idea Where Stocks Are Headed
(Bloomberg) -- When things get crazy in the stock market, clients of big investment banks have strategists to turn to for advice on what to do.
The strategists have no clue.
BMO Capital's Brian Belski and Oppenheimer's John Stoltzfus suspended their year-end S&P targets on Tuesday, saying they need more economic certainty and specific data on the virus's hit on earnings to make recommendations. Canaccord Genuity's Tony Dwyer did the same last week.
"For the first time in our collective careers, we have decided to suspend our year-end S&P 500 price and EPS targets," BMO's Belski and Nicholas Roccanova said in a note late Monday. "There is minimal rational method for predicting the path of U.S. stocks given the rapidity and volatility of data, forecasts, and emotions on a nearly daily basis."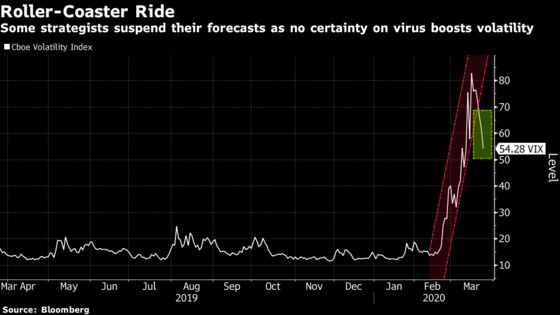 Financial models are going dark as virus angst roils markets, shuts businesses and upends supply chains. It's even harder to assess how the Federal Reserve's unprecedented stimulus will affect U.S. corporates, and when. During the financial crisis, it took 4 months and a 40% S&P 500 rout before a 2008 package of fiscal stimulus worked. Nobody knows if the playbook will repeat.
The suspension of year-end estimates comes as one S&P 500 firm after the next suspends guidance. So far, 19 companies in the equity benchmark have withdrawn quarterly or full-year guidance, and the number is likely to go up.
Most Wall Street banks haven't throw in the towel on their estimates yet, but they're cutting forecasts in droves. Targets announced this week have been anywhere from 2,700 to 3,000 for the S&P 500.
The index surged 7% to 2,399 as of 11:49 a.m. in New York.
Goldman Sachs' David Kostin slashed his target to 3,000 on Monday. On Tuesday, Morgan Stanley, Citigroup and Credit Suisse cut their year-end estimates to 2,700 in sync. Strategists Mike Wilson of Morgan Stanley and Tobias Levkovich of Citi are among the most bearish forecasters on Wall Street. Credit Suisse's Jonathan Golub, is one of the biggest bulls.
Earlier: Biggest S&P 500 Bull Slashes Hit Target Amid Virus-Related Mayhem
That's partly the reason Golub's was shocking to some. Two weeks after lowering his earnings forecast, he dropped his EPS forecast by another 24%. He sees the index's earnings at $125 a share at the end of 2020, which implies a 24% year-over-year earnings slump. Golub's target is the second-lowest forecast behind Goldman Sachs.
The next two quarters will bring slumps of 37% and 43%, respectively, Golub said, before doling out some reassuring news: he expects a 20% jump in the index's earnings in 2021 after a plunge this year.
"Different from the Great Financial Crisis, the current situation should be steeper in both its contraction and recovery."
Most sell-side analysts have been extremely slow in cutting their earnings estimates. The latest Bloomberg compilation from Friday shows analysts still expect profit growth to surge in the second half of 2020 and deliver a 1.5% gain for the year.
To UBS Group AG's head of U.S. equity strategy, Francois Trahan, the bear market is unlikely to abate until the adjustment to earnings expectations is complete.
For that, Trahan recommends watching the University of Michigan consumer survey and U.S. Growth Expectations from the ZEW Financial Market Survey. Post 9/11, they were among the data points that anticipated the trough in profit estimates, Trahan said.
So far the indicators remain in the negative.
"A trough in EPS estimates in past shocks was a sign that the policy response was sufficient, or perceived by investors as enough to offset the crisis." Trahan, who sees the S&P 500 at 3,250, said in a note to clients. "The bear market is "unlikely to abate until the adjustment to earnings expectations is complete."